Today's whole content will cover the benefits of face serum, different types of serum, how to and when to use face serum, how to choose a face serum for different skin types, disadvantages of serum if any, and the best types of face serum available in the market.
Serums contain highly concentrated active elements at the same time; it is lightweight. These special features are making serums popular day by day. Serums mainly make the skincare elements available that we need for healthy skin. The serum is lightweight and easily dissolvable.
This is the reason when you use serum, it goes into your skin quickly and works from the inner layer, unlike other skincare products, which take a longer time to get soaked by the skin. When you are using an anti-aging face serum, it will make the aging signs slow, sometimes disappear. You may like our recent publication on 23 Reasons Why Your Foundation Look Patchy & Dry.
Serums also work on acne-prone skin, reducing bacteria and irritation caused by acne. It can also work on your dry skin, keep it moisturized and hydrated all day long. The Hyaluronic acid serum is famous for its ability to work against the earlier signs of aging.
The serum company claims that serums containing hyaluronic acid slow down the fine lines and wrinkle appearance. Vitamin C serum users also claim that they are getting benefited by regular use of this serum as this vitamin works on pigmentation, skin brightening, and scars.
So, if you are keen to know the benefits of face serum, then you came to the right content.
What is Face Serum?
In a general sense, the serum is fluid that has no impact on clotting. Do not get confused about what is a serum then? For your beauty care, the serum comes in a totally different version where it can help to enhance the glory of your beauty.
Everyday, your skin is facing different pollution, exposure, aging, and other problems. The serum is the magic wand that can help you cope with these situations. Skin pigmentation, aging signs such as wrinkles around eyes, fine lines around your mouth, acne and acne scars, dryness, and dullness are easily solvable problems if you use serums in a proper way. You may see The Best Cosmetic Brands in the World.
Serums are intended to use on your skin after cleansing and before moisturizing. The serum itself is a moisturizer that helps you to keep your skin moisturized. This liquid is able to penetrate deeply into your skin. It can spread active ingredients better than other skincare products to ensure the betterment of the skin.
Serum for skin works as a rescuer from skin damage and locks skin hydration and keeps your skin moisturized. It also balances the acidic properties that help to fight against acne, reduce skin inflammation and soothe skin if you can choose the exact serum that your skin needs.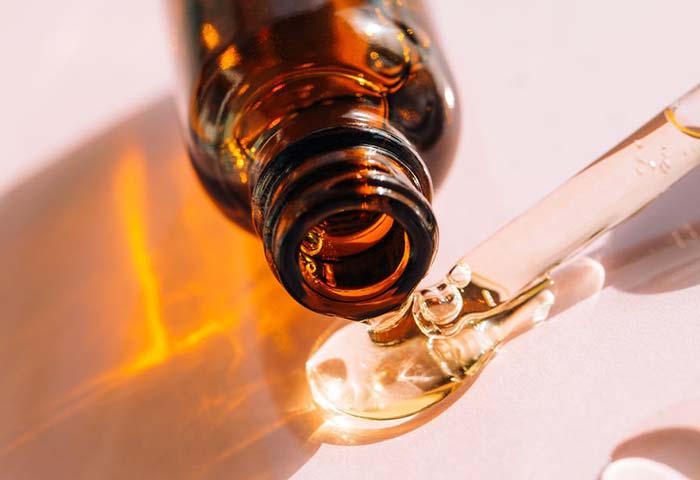 The 13 Face Serum Benefits
Different variants of serums are available in the market. This high concentration of active ingredients is absorbed by your skin quickly. It is clinically proven that using serum can help you to reduce the fine lines and wrinkles. Some serums work on skin irritation due to bacteria and fungus attacks. There are some serums specially made for dry skin available in the market.
Its hyaluronic formula works to keep your skin moisturized, lock your skin hydration and make the skin firm. Who does not want firm skin? According to Dr. Abigail Waldman, face serum is not a moisturizer, but it can sink into the skin and start working from the deep level more quickly than other moisturizers. Let's see the Full List of Makeup Products.
This is the reason, this renowned dermatology instructor of Harvard Medical School recommends using serum more than moisturizer or sunscreen to those who seek for younger-looking skin. All the benefits of face serum on the skin are discussed below.
1. Absorbs quickly into your skin
Face serums are famous for their light-weightiness. It contains highly concentrated active elements that your skin needs the most for repair. Normally, after cleansing your face, when all the dirt is gone, if you use serum you will get the best result. The water-based serums will make you feel as if you have applied nothing to your face.
Fast absorbency is one of the best qualities of serum. For better results, use it after cleansing and before using moisturizer.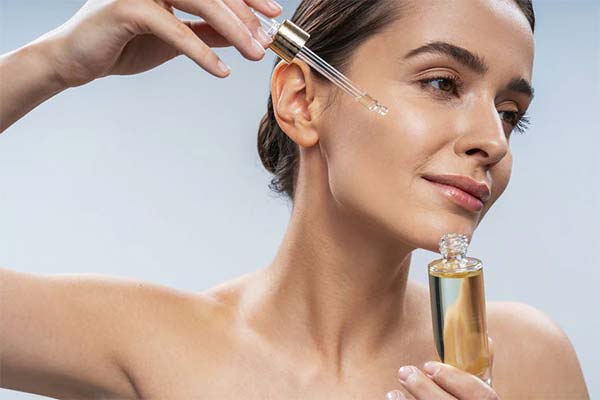 2. Soothes sensitive skin
It is one of the benefits of face serum which is known to all. Lancer, the dermatologist, has suggested serums for sensitive skin. But, he asked to read the quality whether it can alleviate dryness, redness, and irritation of the skin or not. Serums with these abilities help to stop skin inflammation and soothe it. If your serum contains medium-chain fatty acid to restore skin condition, it will easily strengthen the tissues. Let's see the top 10 perfume brands.
This quality of face serums works directly on skin redness and irritation as well as keeps the skin hydrated.
3. Improves the appearance of fine lines and wrinkles
Are you worried about the aging signs appearing on your face? Well, it is time to say goodbye to all those worries because dermatologists have proven that serums can work against aging signs.
Serums aiming for anti-aging ability can reduce the fine lines and wrinkles if you use them regularly in the proper way.
If your anti-aging face serum includes cleansing and moisturizer then follow the proper steps. It is found that four weeks of proper use of anti-aging face serum can also repair photodamaged skin.
4. Protects your skin from free radicals and future damage
When you work outside or even cook, you are exposed to UV rays and free radicals through pollution. To fight against these odds, you need strong antioxidants. Vitamin C has antioxidants that help to repair skin damage, as well as vitamin E. Face serums enriched in vitamin C and E work best on damaged skin.
Ferulic acid, green tea, resveratrol, and astaxanthin help to prevent skin damage from UV rays and pollution and save you from premature skin aging signs.
5. Can lessen the under eye circle
Usually, serums plump and hydrate the under-eye area, which helps to smooth out fine wrinkles too. Although serums are better at lowering general redness, some people believe it can assist with the discoloration that comes with under-eye circles. I believe this is one of the best benefits of face serum.
Sodium ascorbate was found to reduce dark circles of the lower eyelid after 6 months of treatment, according to a small 2009 study Trusted Source, by thickening the eyelid dermis and masking dark pigmentation owing to congested blood. It is mostly found in Vitamin C serum. Let's see the full set of makeup brushes.
Moreover, using retinol serum with a cold compress in your skincare routine, is two effective techniques to help get rid of under-eye bags.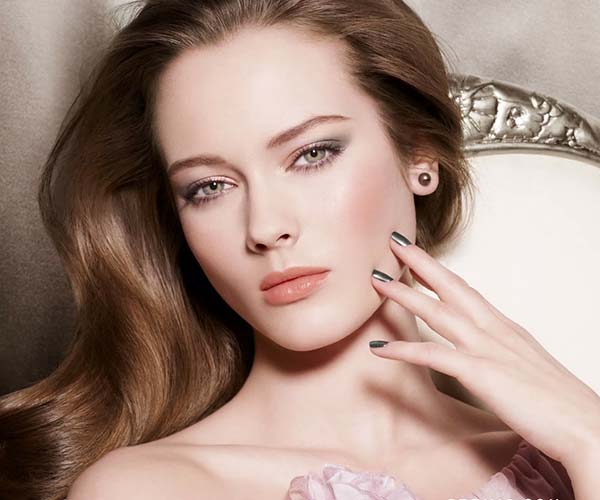 6. Feels light on your skin
Nine out of ten serum users found serums comparatively light. Actually, the lightness of a serum depends on its base. Oil-based serums are available in the market, depending on your skin type they will go into your skin quickly.
Water-based serums leave no sign or residue on the skin as normal cream or lotion and give you an almost weightless feeling. Some serums are too light that they will make you feel like applying water. If you feel your skin is greasy, then be sure that somehow you have used a bit more serum than needed.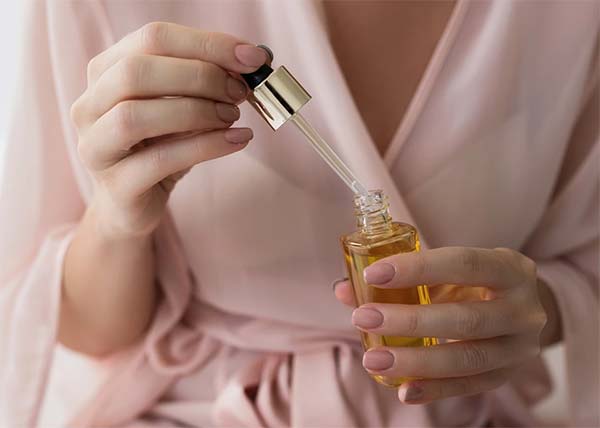 7. It's a collagen booster
Serums can enter your skin comparatively easier and faster than other beauty products. According to Dr. Erum Ilyas, a Philadelphian dermatologist, the receptors of your skin are stimulated by the peptides of serums. The hydrating effect of serum along with skin-protecting oils and antioxidants are the ingredients that make serum skin-friendly and boost the collagen of your skin.
Anti-aging serums contain collagen broken down into amino acids that can be absorbed by the skin and act on fine lines and wrinkles. So, it is one of the best benefits of face serum.
8. Helps to fade hyperpigmentation
Vitamin C can help to erase hyperpigmentation by inhibiting melanin synthesis. Age spots, Sunspots, and melasma are all examples of hyperpigmentation that develops when melanin is overhyped in certain areas of the skin. It can also appear in places that have healed from acne.
Melanin production is inhibited by using different serums. It is most effective with Vitamin C serum. Melanin production is suppressed by vitamin C. By inhibiting the activity of an enzyme called tyrosinase, it is able to reduce the amount of fat in the body.
It's a common treatment for hyperpigmented skin patches in dermatology. Although trials are limited, it has also been used to treat gingival melanin hyperpigmentation (gum hyperpigmentation).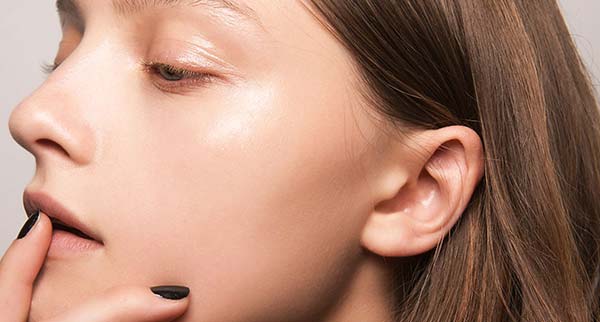 9. Prevents skin sagging
Skin elasticity and firmness are linked to collagen synthesis. Your skin may sag if your collagen levels begin to decline. Applying serums may stimulate collagen formation, especially the Vitamin C serum, resulting in an overall tightening impact.
This is true whether the drooping is caused by natural aging, oxidative stress, or excessive weight reduction. This means it can help tighten up and tone your skin, reducing the appearance of sagging skin.
10. Helps boost wound healing
Serums can enhance cell proliferation or mitogenic stimulation, fast the repair of broken DNA bases enhanced cell motility or the spontaneous migration of a cell from one area to another by consuming energy
So, overall serum aids boost wound healing A review from 2017 Vitamin C supplementation had a favorable influence on gene expression in human skin fibroblasts. So, Vitamin C included serum,
11. Gives protection from sun damage
Excessive oxidative stress from pollution or UV exposure has been linked to vitamin C depletion in the skin. Vitamin C levels are also lower in older or photodamaged skin, however, it's unclear whether this is a cause or an effect.
Free radicals are molecules that cause sun damage. These are atoms that have one electron lacking. Free radicals look for other atoms from which they might "take" an electron, which can cause serious skin damage.
Serums including vitamin c can give a shield to healthy skin cells by donating an electron to free radicals, rendering them harmless.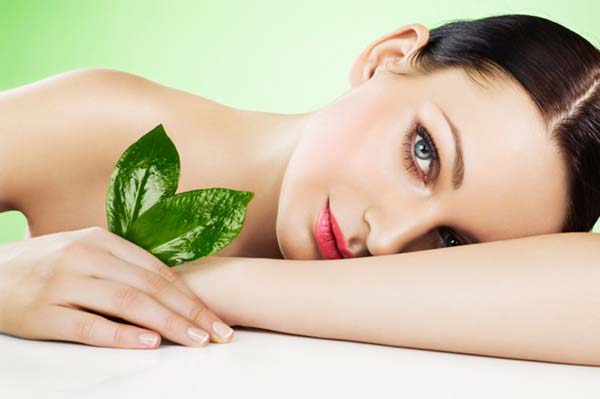 12. Gives the healthy and bright look to skin
Serums can help remove pigmentation and even the skin's surface to minimize dullness. Vitamin C can help remove pigmentation and even the skin's surface to minimize dullness. It has the power to reduce the growth of melanin which can give skin a bright look.
A review from 2017, Vitamin C serum has been demonstrated to inhibit melanin formation, the pigment responsible for skin color, according to a Trusted Source. This can aid in the removal of black patches and general dullness that prevent you from achieving a dewy appearance.
13. Has the potential to provide more visible results
One of the significant benefits of face serum is its potentiality of getting visible results. Serums have some features that make it special-
Smaller particles
Penetrants the skin faster
Absorbed by skin easily
Goes deeper
Contains active ingredients
All these qualities are needed for skin improvement. Other skin care products include cream and oil. When it is used on the skin it takes time to dissolve in the skin and act effectively. On the contrary, serums dissolve quickly and start working from the deeper layer. This makes serums more potential in providing visible results.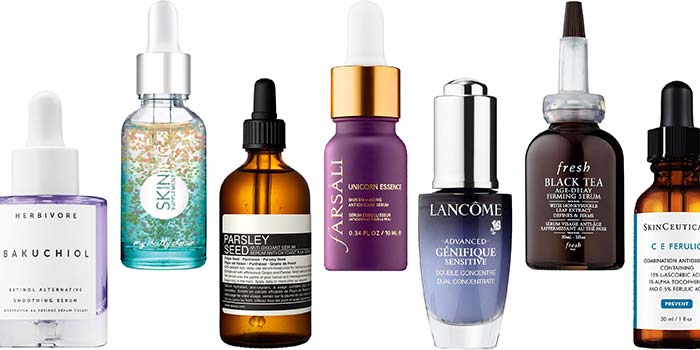 The 06 Types of Serum
Using serum has been proven beneficial for the skin. But different people have different types of skin with their different needs. The right one is important to find out among various serums available in the market for getting the best result.
1. Hydrating serums
The hydrating serum is mostly enriched with vitamin B5, which is well known for keeping the skin hydrated, making its appearance smooth. Hyaluronic acid has the ability to bind water in the skin. Generally, hydrating serums contain this acid that helps you to obtain fresh-looking plump, younger skin.
Hydrating serums can help the skin to minimize the appearance of fine lines and wrinkles. As a result, you can get younger looking beautiful skin.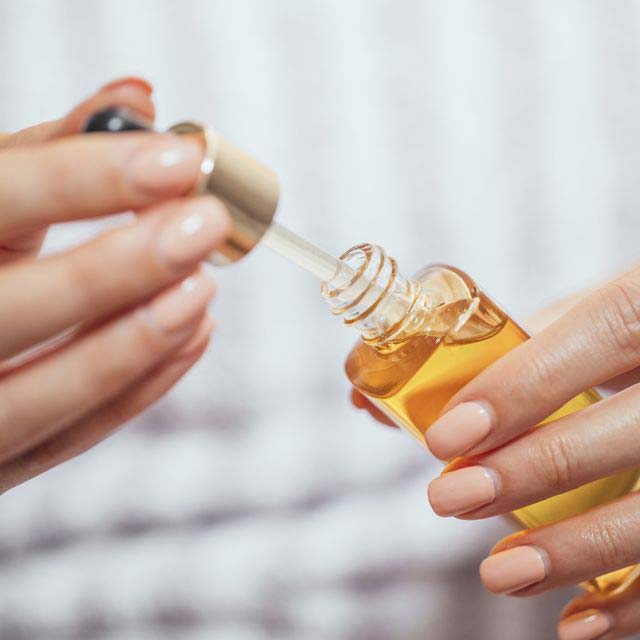 2. Anti-aging serums
Anti-aging serums work to produce collagen. This type of serum mainly contains retinol only or bakuchiol, sometimes both. These ingredients help in the renewal of the skin. Other than this, this type of serum has the ability to tighten your skin, which is the main reason for the disappearance of fine lines and wrinkles around the eyes.
Anti-aging serums can lock hydration in your skin and keep it moisturized. A moisturized skin is healthy skin and stays young for a long time.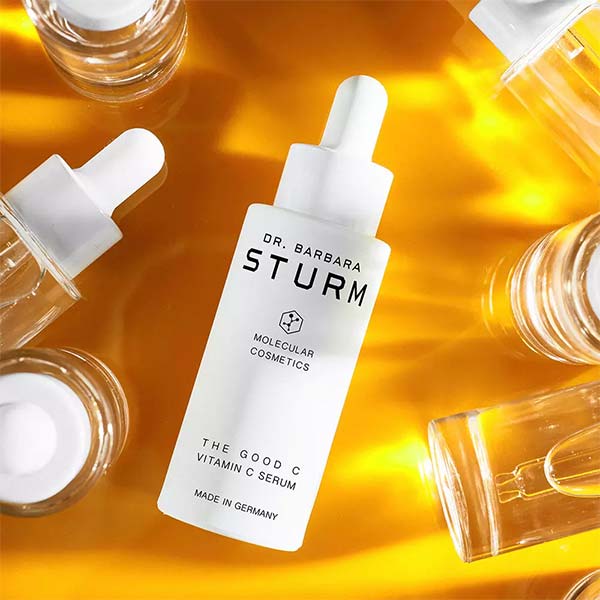 3. Skin-brightening serums
When you are planning to use skin-brightening serum, make sure that it is full of antioxidants and has the ability to fight against pigmentation. Skin-brightening serums also work on scars and dark spots. This serum works on the spots and regular use lightens the spots and makes your skin look better.
Generally, vitamin C is famous for its brightening property. Other than this, kojic acid, ferulic acid, glycolic acid, lactic acid, mushroom extracts are essential for skin brightening. And, a serum containing all of these ingredients is surely a skin-brightening serum.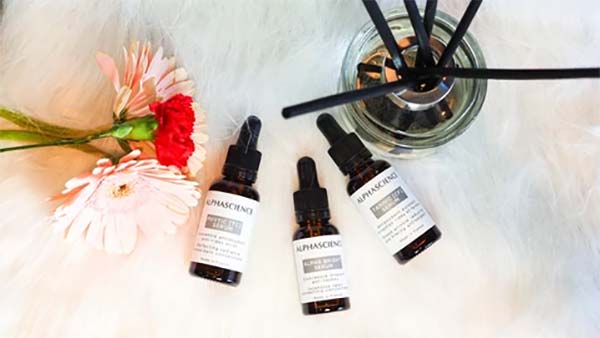 4. Free-radical fighting serums
It is scientifically proven that antioxidants fight free radicals. Daily exposure to pollution and UV rays causes damage to even healthy skin. Antioxidants help you fight against all these odds. Serums containing vitamin C, A, and E work as free radical fighting serums. If it contains resveratrol, then it will work better.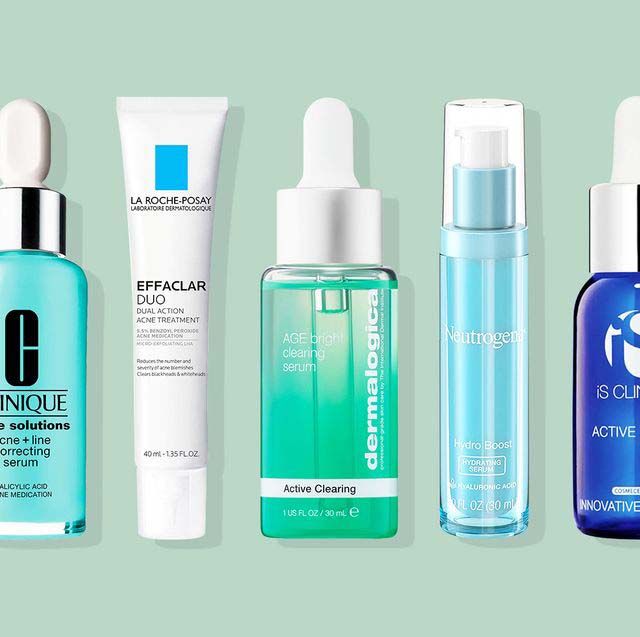 5. Acne-prone and sensitive skin serums
Organic acids are the main components of anti-acne serums.
Anti-acne serums mainly contain salicylic acid. It also has a special form of vitamin B3, known as niacinamide, that works on skin irritation.
Serums containing salicylic acid disrupt the growth of bacteria on your skin that can lead to acne.
This type of serum works on inflammation locks the hydration in the skin and makes it smooth. Due to these functions, anti-acne serums are good for acne-prone sensitive skin.
6. Reparative/texture improvement serums
If any dermatologist suggests you serum for skin improvement then do not get confused.
Basically, the glycolic acid-containing serum works best as a reparative serum. The hydroxy acid can easily penetrate the epidermis, the top layer of the skin.
It helps to shed dull and discolored skin and reveal more glowing and smoother skin. This serum also gives your skin a very good tone, color, and smooth skin.
How to Apply Serum to Face?
One of the most common questions of every woman is "how to apply serum to face." Most of the beauty specialists and dermatologists recommended serum to be used before any heavier skin products. Serums work best when applied on the skin directly and absorbed well.
Generally, people follow the steps to find the answer to the billion-dollar question, how to use face serum. Following que is the basic steps of applying serum.
1. First of all, clean your skin with face wash or any other cleanser that you use on a regular basis. Make sure that your skin has no dirt on it. Clean skin has clean pores which are suitable for serum penetration.
2. Then use toner, mist, or water. After cleaning the skin, sometimes pores get bigger due to rubbing and washing. Bigger pores cause serum to rush into your skin. It is irritating and causes inflammation. Toner or mist helps the pores to relax and get back to their actual size.
3. Apply your serum when the skin is relaxed. Usually, the instruction asks you to use the dropper given with the serum and drop 2 to 3 drops on each cheek. Then use your flat fingertips to massage the serum by moving the fingers clockwise and letting it melt into your skin.
4. Wait for 5 minutes after using the serum. After that use moisturizer and give your skin a light massage again.
Frequency of using serum actually depends on the purpose of your serum.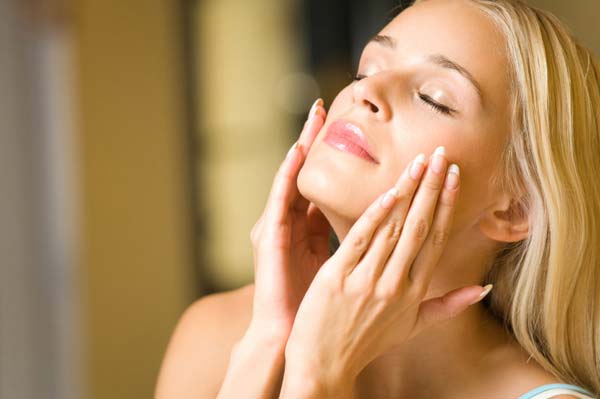 When to Apply Face Serum?
Serums are getting famous day by day due to the benefits it can provide to your skin. The number of serum users is also increasing daily. The benefits of face serum are huge in numbers but one needs to know what is the most suitable time for its best effectiveness. Serums work best on clean skin so they should be used first on your skin right after cleansing. Clean skin helps the serum to reach the deeper level of the skin and work from inside.
Any moisturizer or other products leave some liquid or cream and create a layer on your skin that hinders the penetration of a serum. This process of using serum will make the progress slower.
Apply a face serum twice a day in most cases – first, in the morning right after cleaning and second, at night before going to bed.
Some serums are not allowed to direct sun exposure due to their properties. Some serums work up to their full potential when you use them right before going outside under the sun. So, it is better to read the instruction first given on the packet then use it in the described way.
Disadvantages of Face Serum
Though the benefits of face serum are many but there are some side-effects also. Chronic skin such as suffering from eczema or rosacea is not serum-friendly skin because this weakens the skin barrier. In this skin condition, you better avoid using serum as it penetrates skin too quickly and causes irritation.
If you have too dry or mature skin, use just serum and wish for smooth skin then it is not going to work which is the main disadvantage. It helps to restore the aging signs with the help of other formulas. This skincare product may sound like a magic wand but there are some disadvantages of face serum too.
It is difficult to decide which one to buy as you may have different skin problems or needs.
Serum can be supportive but not an alternative to a moisturizer. That means it is an extra in your daily skin care routine.
Though you believe that it helps to develop skin conditions but it may not be the truth. Serums are just like other skin care products.
The main three are cleanser, toner and moisturizer.
Serums are quite expensive in comparison to other skin care products.
If you do not store the serum properly, its elements and vitamins get oxidized easily. And, if you use this serum, you will face issues with your skin.
Other than the issues described above, serums can cause skin irritation. It can cause the skin barrier to be weak, with extreme dryness and itchiness.
How to Choose a Face Serum
There are various types of serums available in the market enough to amuse as well as confuse you at the same time. But you need to be strategic when buying any serum. You need to be very careful about what to look for in a serum.
First of all, decide why you need the serum, for brightening, skin tightening, skin development or moisturizing. Depending on your skin type you need to choose the proper serum. If you have oily skin and suffer from acne irritation, then select a face serum enriched in salicylic acid and retinol.
Serums for oily skin lessens skin inflammation and hinder the growth of bacteria that can cause acne. Serums rich in vitamin C also brighten your skin by fighting the dark spots. On the other hand, for moisturizing and keeping your skin hydrated, try serums containing hyaluronic acid and vitamin C.
The hydrating serum will lock the moisturizer in your skin, tighten it and help to get rid of fine lines around your mouth and wrinkles around the eyes to give you a younger-looking skin. If you are lucky enough to have normal skin, then serums with glycolic acid will be enough to keep in your skincare routine.
If you start using face serum at the right age of using face serum then you will get more benefits. According to dermatologists, 25 is the best age to start using skincare products.
Best Face Serum for Different Purposes and Skin Types
Different serums have different purposes. Some serums will moisturize your skin, some will work against acne. There are some that will work to lessen the aging sign and give you a younger look.
Based on best face serum reviews this part will help you to find the best serum for you.
Best serum for skin brightening
Ferulic + Retinol Brightening Solution
$88 AT DERMSTORE
Liftosome Serum. Guinot
Resurfacing Night Serum. Biossance
Skin Renewing Vitamin C Serum.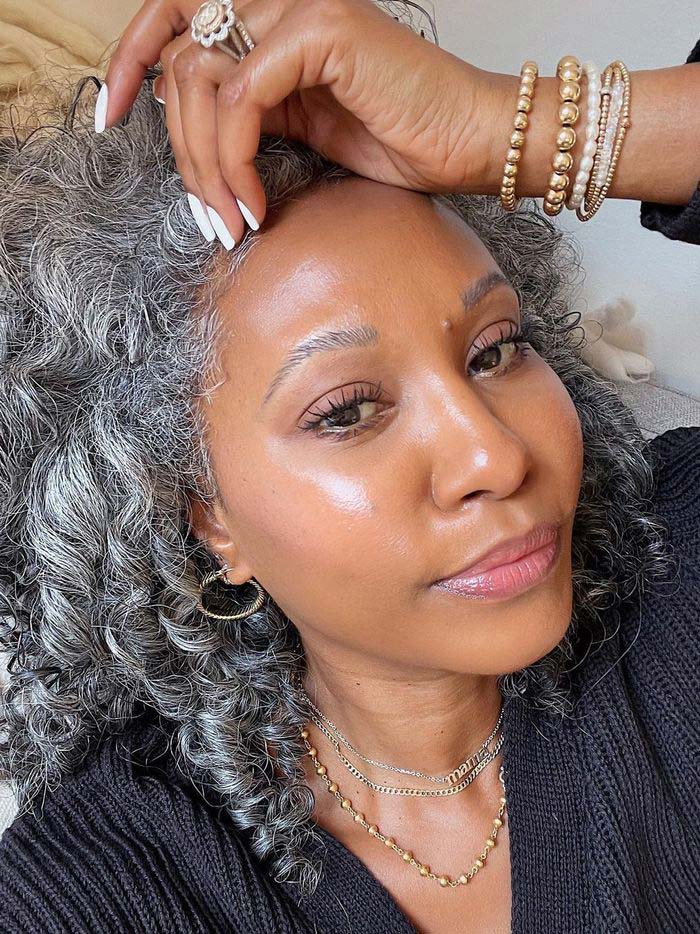 Best serum for sensitive skin
Paula's Choice Clinical Niacinamide 20 Treatment
CeraVe Skin Renewing Vitamin C serum
Drunk Elephant B-Hydra Intensive Hydration Serum
CeraVe Hydrating Hyaluronic Acid Serum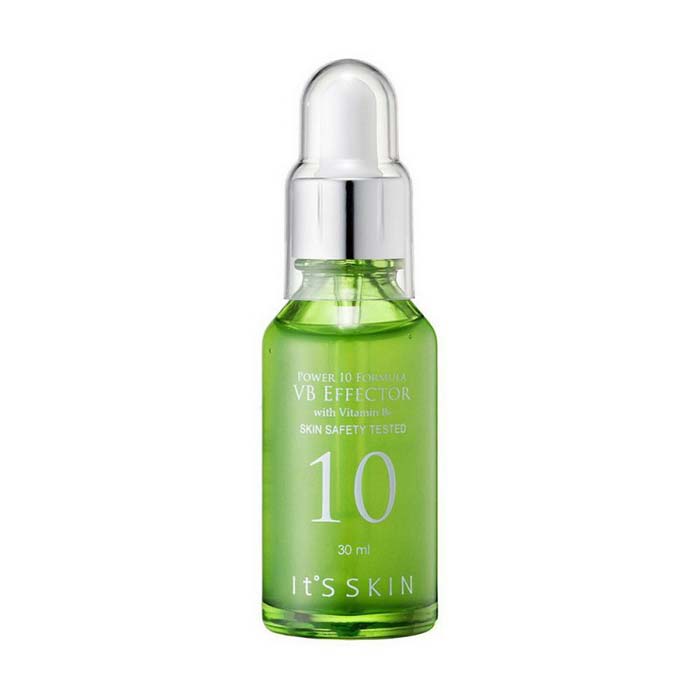 Best serum for oily skin are
Lancôme Advanced Génifique Serum
GLAMGLOW Superserum
Caudalie Vinopure Skin Perfecting Serum
The Ordinary "Buffet" + Copper Peptides 1%
Best face serum for over 50
Olay Regenerist Retinol24 Night Serum
Biossance Squalane + Phyto-Retinol Serum
SkinCeuticals C E Ferulic Combination Antioxidant Treatment
Caudalie Vinopure Skin Perfecting Serum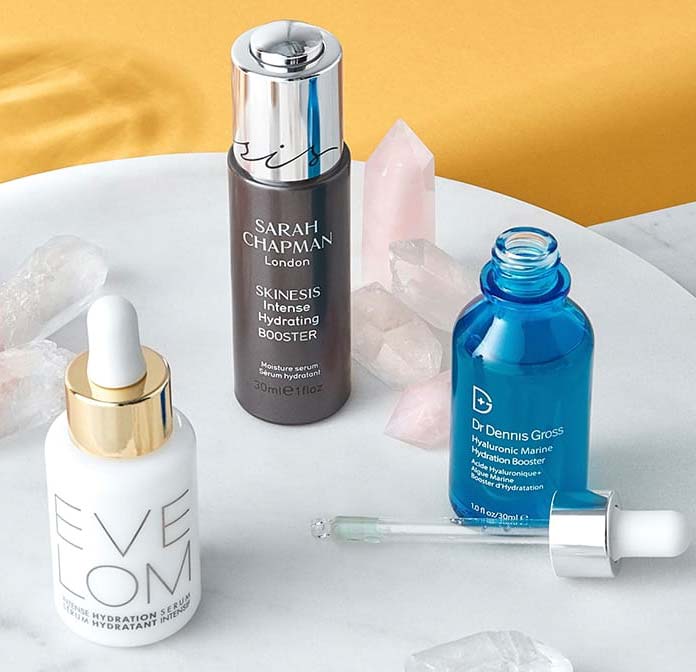 Best serum for dry skin
WOW Skin Science Hyaluronic Acid Face Serum
Biotique Bio Dandelion Visibly Ageless Serum
The Derma Co 5%‌ ‌Hyaluronic‌ ‌Acid Face‌ ‌Serum‌
Olay Total Effects 7-In-1 Anti-Aging Smoothing Serum
Best serums for acne
Mamaearth Tea Tree Face Serum
WOW Skin Science Blemish Care Serum
Plum Green Tea Skin Clarifying Face Serum
Be Bodywise Serum For Acne Prone Skin
Best antioxidant serum
SkinCeuticals C E Ferulic Serum
The Ordinary Magnesium Ascorbyl
Phosphate 10
Drunk Elephant C-Firma Day Serum
Best anti aging serum
EltaMD Skin Recovery Serum.
The Ordinary "Buffet"
Naturium Alpha Arbutin Serum 2%
Peach & Lily Glass Skin Refining Serum
Collagen serum
Algenist Genius Liquid Collagen
Colorescience PEP UP Collagen
Renewal Face and Neck Treatment
Babor Lifting RX Collagen Serum
#Frequent Questions and Answers on Face Serum Benefits, Types & Usages:
What ingredients to look for in a face serum
What type of serum you should use depends on your skin demand. Acne-prone, dry, aging, pigmented, different skin needs different ingredients for skincare. Usually, when you are planning to buy a serum you need to look for hyaluronic acid, glycerin, betaine, and panthenol are the elements of your serum or not.
These help to keep the skin hydrated and lock the moisture. Serums made with coconut extract, organic lipids, essential fatty acids, antioxidants, and ceramides are also good for the skin.
Do I need a serum?
The serum is not a must to complete your skincare routine. But if the right serum is used at the right time, it will help you to gain fresher and younger skin. Serums are lightweight and contain highly concentrated skincare ingredients which penetrate the skin faster.
So, if you choose to use a better quality serum, it will give you better skin faster than other skin care products can give.
How often do you use serum?
Serums are supposed to be used twice a day, in the morning and before bed at night. You should clean your skin first then use toner. After that use a serum before using moisturizer. Use sunscreen after serum if you are going outside.
At night, follow the same steps. Some serums have different use frequencies. You should read the user manual first before using zrwany.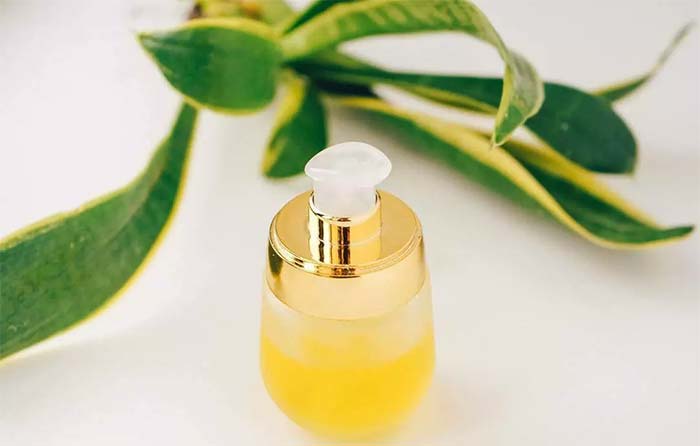 Serum for face homemade
Surprisingly, you can make serum at home instead of buying an expensive one.
You can take aloe vera gel and mix it with rose water. It would be best if you can use the gel scraped freshly. You can make rose water by using fresh rose petals.
When you are done making the serum, use a cotton ball, dip it in the serum and apply it on your skin.
How to layer serums?
Sometimes you may need to use different serums at the same time. At that time you need to layer the serums carefully. Serums penetrate the skin fast, a proper layer of serum is necessary. Use lighter and water-based serum first then the heavier ones.
In this way, serums will reach the skin layers properly and work better. The same rule you should follow when using serums with other products. On clean skin use mist or toner first then use a serum before moisturizer.
At what age should you start using skin care products?
Dermatologists mainly suggest starting using face serum from the mid-20s, around 25 years. But you should start using anti-acne serum from your early 20s as well as the eye serum.
You can also start using anti-aging serum from the mid-20s on a regular basis.