The benefits of coconut oil to hair cannot be described in words and you probably came here to know why exactly people use coconut oil to hair?
Coconut oil has been playing an important role in beauty, health, and diet. It can treat the hair and is also good for the skin and in food. The benefits of coconut oil to hair are something we have been witnessing for centuries. There are probably a thousand benefits of using it regularly.
In this article, you will find discussions about all the details about coconut hair to guide you about using it properly to get the maximum benefits. By the end of it, you will know about all kinds of coconut oil and how it repairs and treats your hair from damage while restoring the shine into your hair.
You may also like our recent publication on how castor oil helps your hair grow and how to deal with the myth of castor oil to hair.
Why is coconut oil better at protecting your hair than other oils?
Coconut oil is famous worldwide and known as the best oil for hair. There has been a study to figure out which oil works best at preventing protein loss for hair. They took sunflower oil, mineral oil, and coconut oil for this study and measured the amount of protein loss after the wash. The researcher found that coconut oil ensured less protein loss from the hair than the other oils.
Moreover, the research included undamaged hair, UV exposed hair, bleached hair, chemically and dyed hair, but in every case, the coconut oil stood strong, repairing them and preventing further damage upon them. No other oil besides coconut oil showed this quality. The reason behind this is probably the components of coconut oil. You may like the best brand for your hair color.
It has lauric acid, a medium-chain fatty acid that gives it a long straight structure, making it easier to absorb in hair cuticles. Other oils have a bulkier texture that helps them cover the hair and not penetrate through it. The researchers have stated that coconut oil to hair works best if it is applied before a wash.
The 11 Coconut Oil Benefits
Coconut oil is great for treating damaged, rough hair. The moisturizing particles and the vitamins make sure you have healthy hair and scalp. You just need to use it properly to get the full benefits. We have discussed some of the few coconut oil benefits that can help save your hair through shampoos, heating styles, bleach, and more.
01. Hair Grow Longer, Thicker, and Healthier
Coconut oil has been known for centuries to make the hair grow longer, thicker, and healthier. This organic oil has certain vitamins and fatty acids that treat all kinds of hair problems. Using it in hair masks now and then or getting a hot oil treatment twice a week can change the look of your damaged hair giving you the healthy and shiny hair you dream of. Massaging hot coconut oil on the scalp helps the blood flow and reduces sebum build-up, helping the hair grow faster and thicker. You may check the best flat iron brands in the market.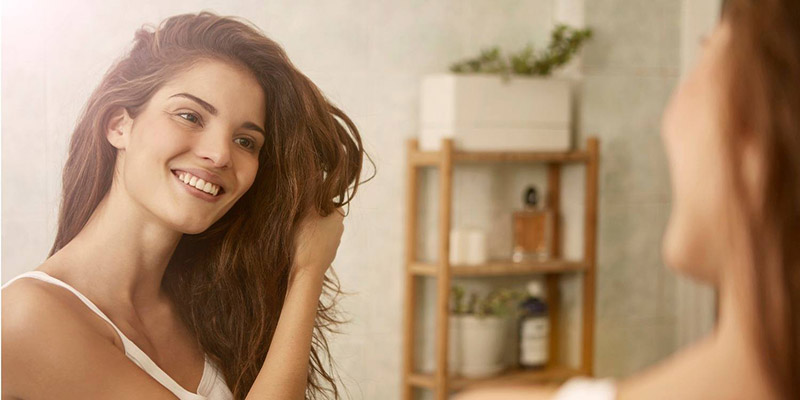 02. For a Pre-Shampoo Treatment
We all know that shampoos have chemicals that strip off the natural oil and moisture in the hair and leave the hair dry and frizzy after a wash. Coconut oil acts as a conditioner if you apply it all over your hair from root to tip and massage it thoroughly. This will make sure you still have soft, shiny hair after washing it with harsh shampoo.
03. Before a Big Dye Job to Prevent Hair Coloring Damage
Some experts suggest applying a small amount of coconut oil to hair before getting it colored is beneficial. The bleach or hair color has certain chemicals that can rip off the hair's natural oil and moisture and make the hair look damaged and dry. Coconut oil helps to prevent that by adding moisture. This extra step will make sure your hair shines even after a big hair dye job. You must see: World's Best Cosmetics Brands
04. Rub Coconut Oil On Your Split Ends For a Quick Fix and Frizz Control
Split ends and frizzy hair are hard to control, and they are the indicators of damaged hair. One of many coconut hair oil benefits is its ability to treat split ends and tame frizzy hair. Rubbing a little oil on the hair and its ends will control the frizz almost immediately while treating the split ends. The oil smoothes the hair, so it does not look frayed and provides enough moisture to prevent it from getting damaged again.
05. Leave-In Treatment
The coconut oil works great as a leave-in treatment for hair. It is said that the longer you keep it in your hair, the better the results. Also, it has healing properties that will heal the hair if you leave it on overnight or go in the sun with it. It will protect your hair and moisturize and nourish without any extra effort. The leave-in treatment works well if you go in the sun or to the beach in the summer. You might like the Best Makeup Products for Beginners.
06. Non-Toxic and All-Natural Aid for Getting Rid of Lice
If you are looking for a non-toxic way to get rid of lice, try out coconut oil. A study showed that if you mix anise with coconut oil and then spray it on your hair, it works 40% better at treating lice than any other chemical.
07. Extremely Helpful in Dealing with Dandruff
Having dandruff is one of the common hair problems that we face in our scalp. The reason behind dandruff is mainly the fungus overgrowth of yeast. It is mostly accompanied by dry skin, which makes it itchy and uncomfortable. Coconut oil can treat them both as it has some antimicrobial properties that fight dandruff, leaving you a healthy scalp.
08. As a Detangler
If you spend hours detangling your hair, then you need to know this trick. Just take a tiny amount of coconut oil and apply it to your wet hair. Gently comb it out, and you will see how easily it detangles your hair. This is one of those coconut oil benefits that never fails. Moreover, it will stop hair breakage and make your hair shinier and healthier.
09. Boost Shine
Coconut oil can also help add shine to your hair. You just need to apply a little amount of coconut oil all over your hair, making sure not to apply too much to make it look oily. This will add a shine to your hair that you will need.
10. Save Your Hair from Sun Damage
Harmful rays from the sun can damage not only the skin but also the hair. The way we save our skin from the sun, our hair needs protection from the sun the same way. Coconut oil to hair benefits it with its natural SPF that can create a natural barrier between the hair and the sunray and protect your hair.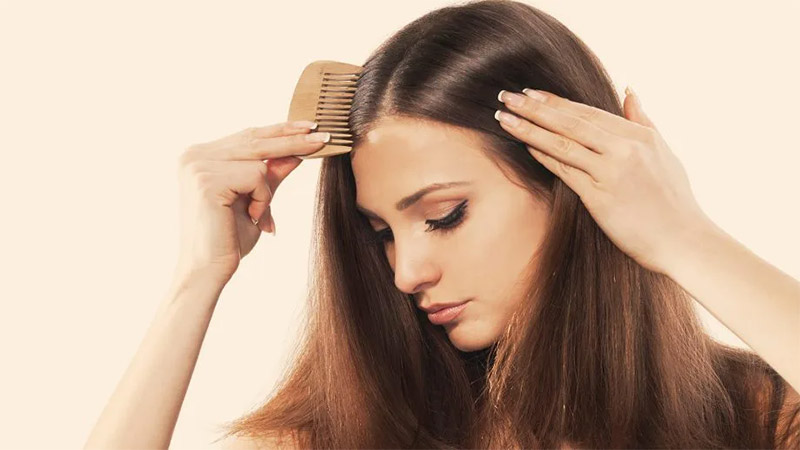 11. Hair Loss Prevention
The benefit of coconut oil for hair is that it can prevent hair loss and help grow them. There can be a thousand reasons behind hair loss, and coconut oil covers most of them. Hair loss can occur if you use a lot of hair styling products or use too much heat while styling. Coconut oil makes sure to treat those damages and prevent hair fall.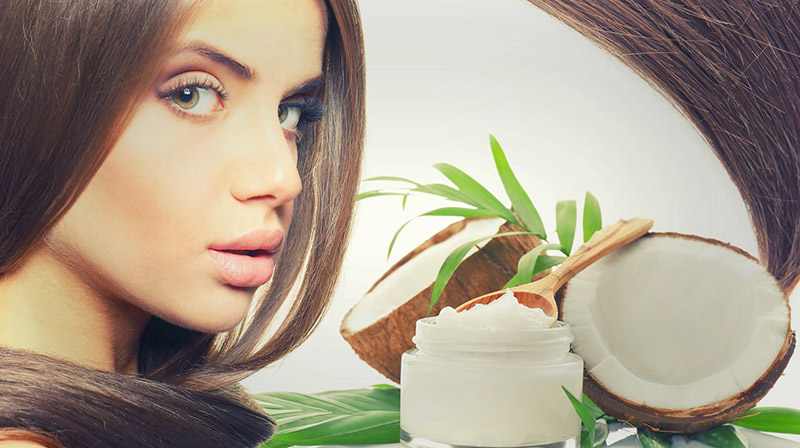 Coconut Oil For Scalp
If you have a dry scalp problem and need some organic, chemical-free solution, get some coconut oil from a nearby store. Coconut oil creates a barrier that locks in moisture inside the scalp while it nourishes and moisturizes the scalp from the inside. It also saves the scalp from bacteria by creating this barrier. Coconut oil can treat dry and itchy scalp preventing dandruff and other hair problems. It has antifungal properties and lauric acid that moisturizes the scalp. As coconut hair has almost no chemicals, it is suitable for a baby's skin. While the chemical in shampoo might harm you, coconut oil will be harmless. Moreover, coconut oil can relieve the symptoms of scalp psoriasis. Although it will not treat it completely, it will get you some relief from it.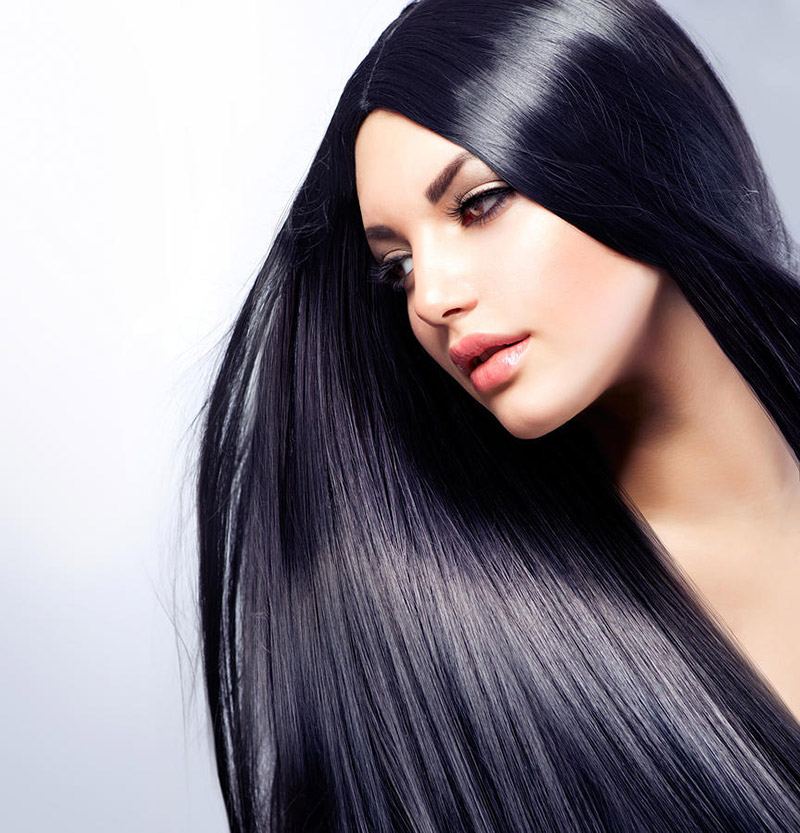 How Coconut Oil Helps with Hair Growth?
A healthy scalp can grow hair fast and keep your scalp healthy. Coconut hair plays an important role in a lot of beauty treatments.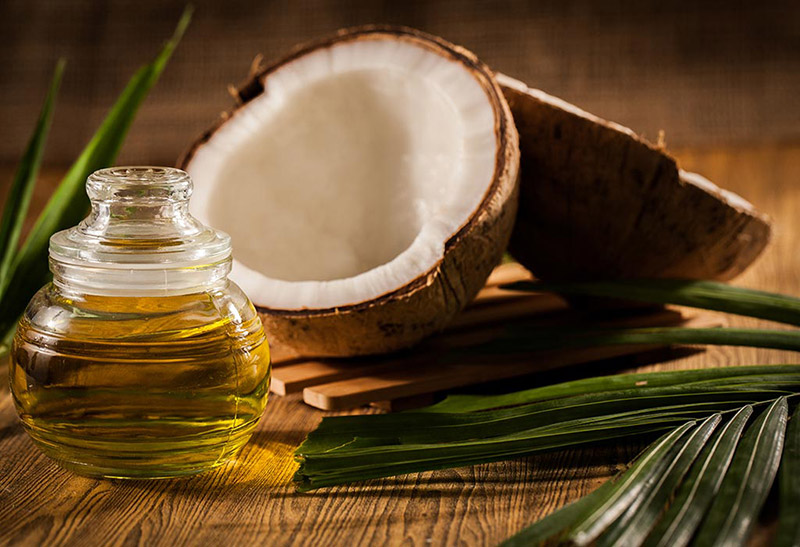 01. Coconut oil fights Fungal Infections
Coconut oil helps fight dandruff and other fungi on the scalp, which makes it healthier and helps the roots grow stronger. Healthy roots can fasten hair growth effectively.
02. Calms Irritation
As coconut oil has a high quantity of saturated fat, it can help scalp irritation, itching, and flaking. Coconut oil is also good for locking in the moisture of the hair.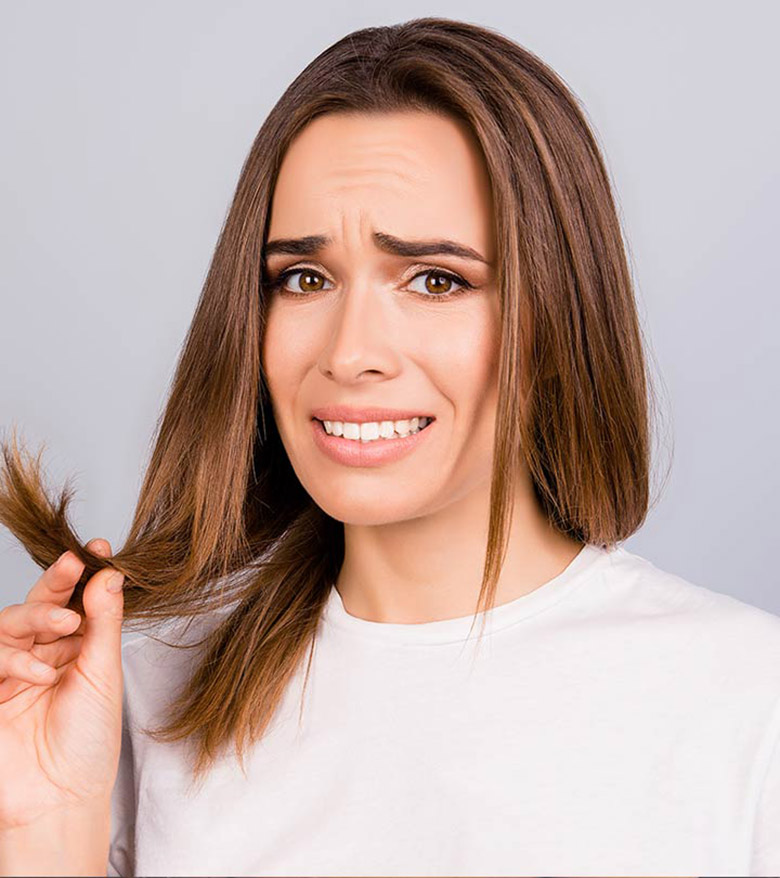 03. Treats Split Ends
Coconut oil can help shorten your visit to the hair salon by treating your split ends. The high-absorbing coconut oil helps prevent breakage and split ends which mean you will need less trimming on your hair.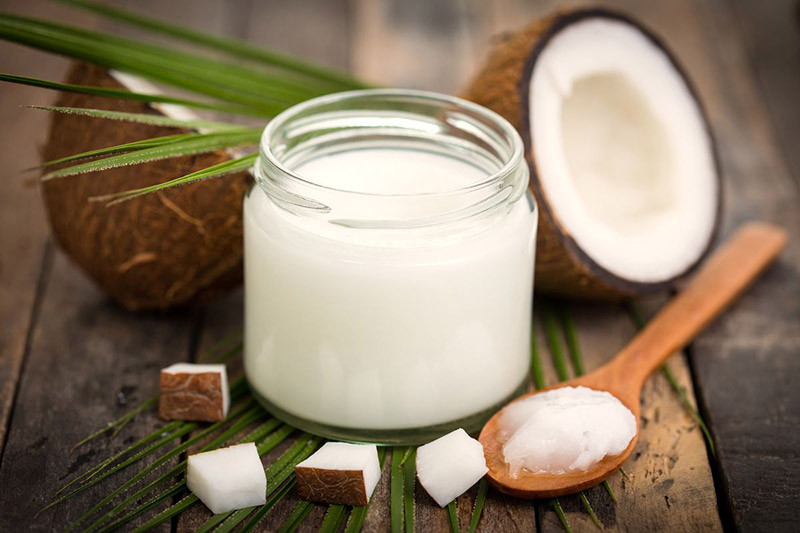 04. Protects from heat damage
Too much heat can damage the hair. So coconut oil creates a protective barrier that locks the moisture in so that heat cannot damage the hair. Now you can dry your hair and also use heat to style it without worrying about hair breakage.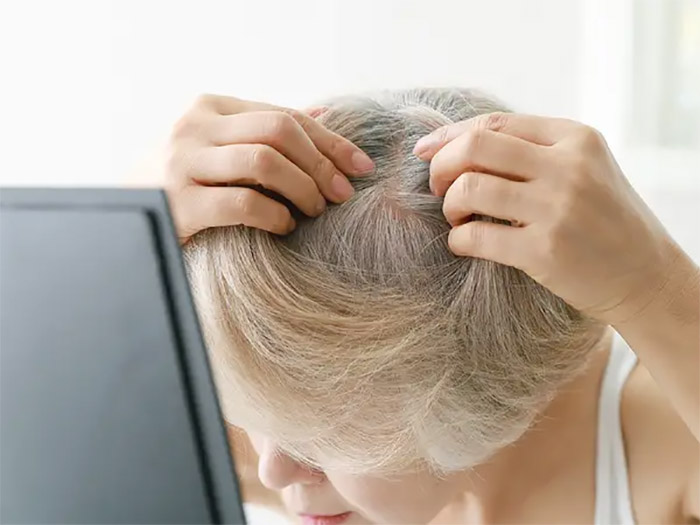 05. Helps to kill lice and lice eggs
Studies have shown that coconut oil can also help the scalp and hair by killing the lice and eggs.
06. Helps hair grow longer
Applying it to the hair and adding coconut oil to your diet will provide you with healthy fatty acids that will make your hair grow longer.
Is coconut oil bad for your hair?
Coconut oil is completely natural and free from any kinds of harmful chemicals. If you manage to find the unrefined coconut oil, you will find the most organic one for your hair. However, using it too much can make your hair greasy and dull.
It can also weigh down your hair if you have comparatively finer hair. So, if your hair is fine, make sure you use a tiny amount of oil and apply it on the middle and the ends only. Avoid the scalps, and it will not make your hair greasy anymore.
Also, many people complain about hair fall after applying coconut oil. But the reason behind this hair fall is not coconut oil. It only strengthens the roots. Some hair falls are normal, and they occur every day.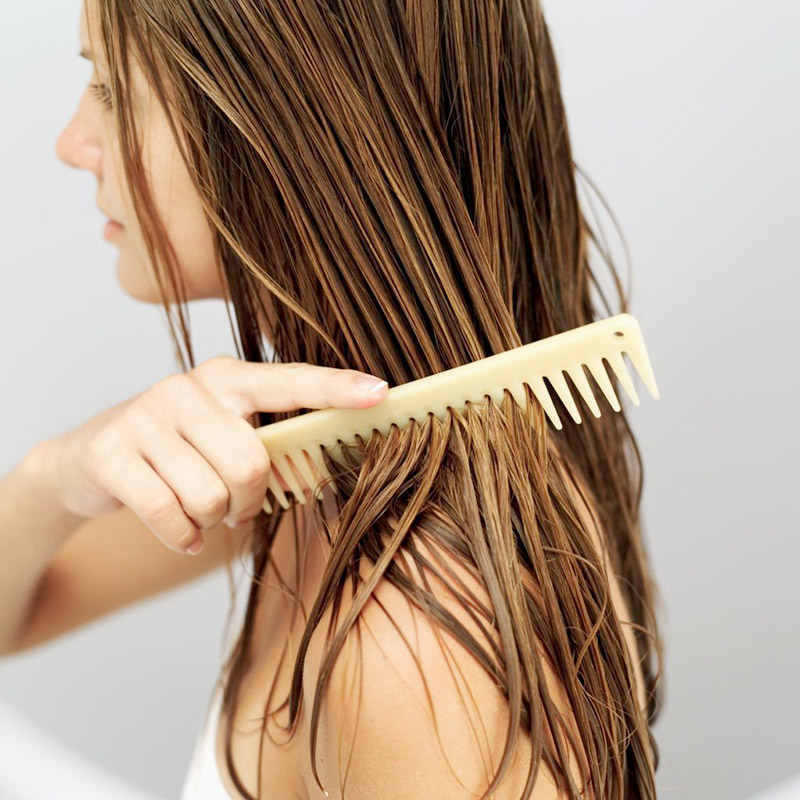 How to use coconut oil for hair?
There can be numerous uses of Coconut oil for hair. The list of the uses of coconut oil to hair are given below:
01. As a conditioner
Coconut oil can prevent breakage by strengthening the hair shaft. It works the same as a regular conditioner without any chemicals. You can add this coconut oil to your daily hair care routine and use it as a conditioner, or you can add a few drops of coconut oil to your current conditioner to increase its power.
02. Post wash detangler
Coconut oil can work as a good detangler if you apply it to your wet hair after a shower. The oil will not make the hair stick to each other, and so the hair will easily detangle when you comb it through using a wide-toothed comb.
03. Hair mask
Coconut oil works great as a hair mask. You can use it as is and keep it overnight for overly damaged hair, or you can add yogurt, eggs, etc., with it.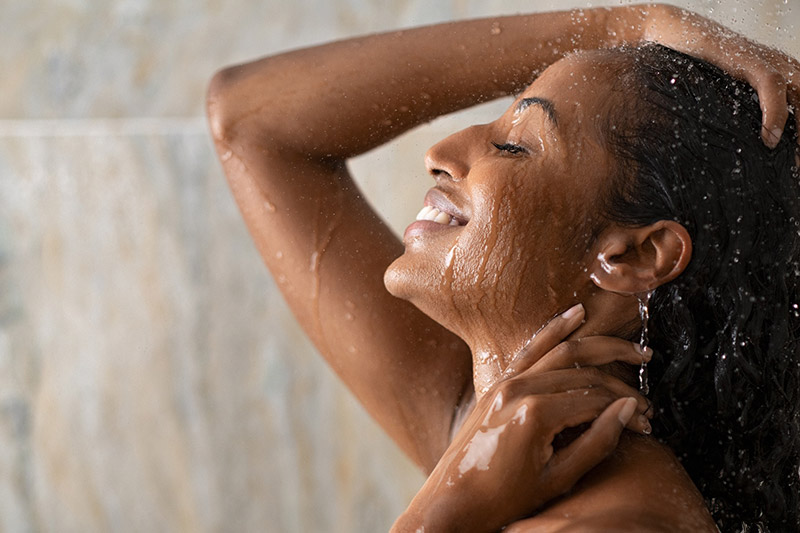 04. Pre Wash hair protector
Coconut oil works as a hair protector if you apply it before washing your hair with shampoo. Even a small amount can help if you apply it at least 15 or 20 minutes earlier. Using it on the ends and the midsection works the best as these parts often become dry soon.
05. Scalp Treatment
Coconut oil is the best natural treatment for your scalp as well. It can treat dry, itchy scalp that has fungal infections. As coconut oil has multiple antibacterial and antifungal properties, it works wonders on the scalp. Massaging warm coconut oil regularly and washing it off can make your scalp healthy in no time.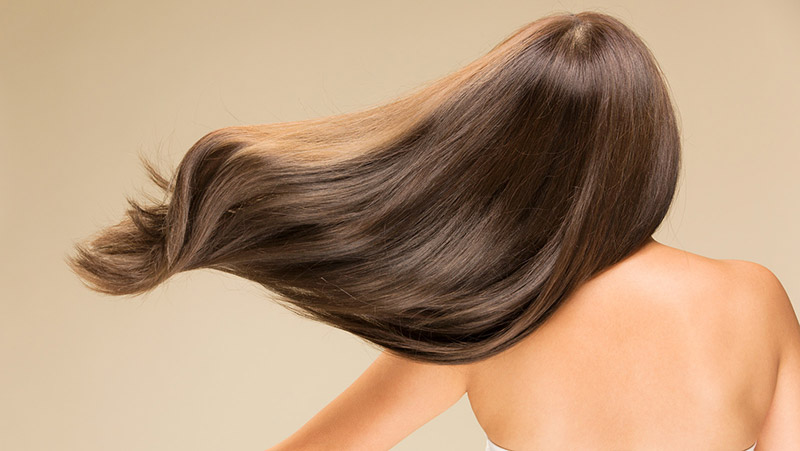 How to get coconut oil out of hair?
It might get a little difficult to get the coconut oil out of your hair. You might need to wash it twice or more with a shampoo to get all the oily, greasy parts out of your hair. Starting from the scalp and gradually moving towards the ends of your hair.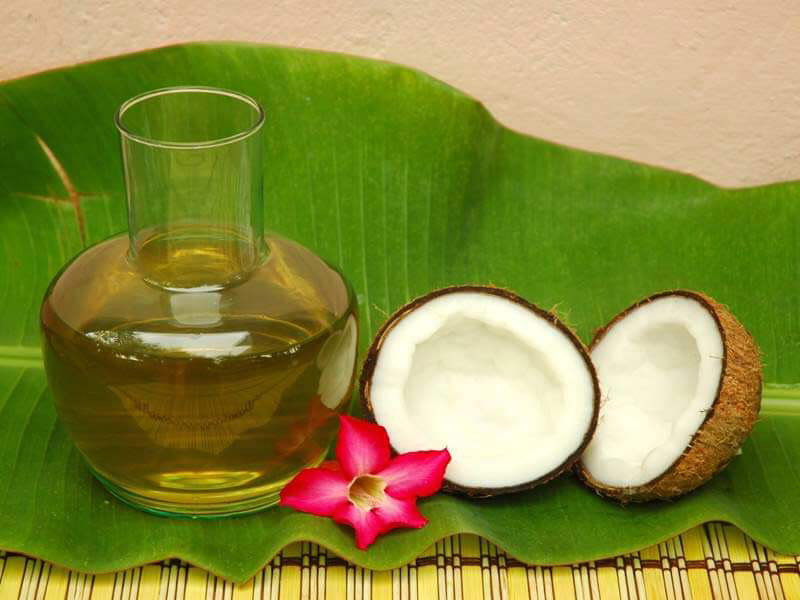 Cons of Coconut Oil as a Shampoo
Coconut oil cannot work as a shampoo. It just works as a pre-shampoo moisturizer. You will need to wash it off with your regular shampoo.
01. Limits of effectiveness
It does not have any properties of shampoo in it as it has some limitations. So if your scalp has severe problems, we suggest you use medicated shampoo to help your scalp. However, if the symptoms get worse, immediately contact a doctor.
02. Potential allergic reaction
Even though coconut oil is completely organic, it does not mean it cannot have any allergic reactions. If you ever feel an allergic reaction after applying coconut oil on your scalp or hair, stop immediately and get medical attention as soon as possible.
Is it Safe to Use Coconut Oil on All Hair Types?
Coconut oil is an organic product free from chemicals, and it is perfectly safe for any hair type. It does not matter what kind of hair you have. This oil suits them all, whether it is fine, coarse, dry, oily, frizzy or curly hair.
Coconut oil has certain moisturizing particles that will soften the dry hair, nourish the coarse hair, and tame down the frizzy hair. However, the oil can weigh your hair down if you already have oily hair. It can also increase the amount of oil on your scalp.
The amount of coconut oil you will use, depends on the type of your hair. If you only need to tame your frizzy hair, a little amount can do the work. However, if you want to treat your dry thick hair, you need a bit more coconut oil to moisturize it well. People with all kinds of hair types have been using this oil for ages, and it has always given them impressive results.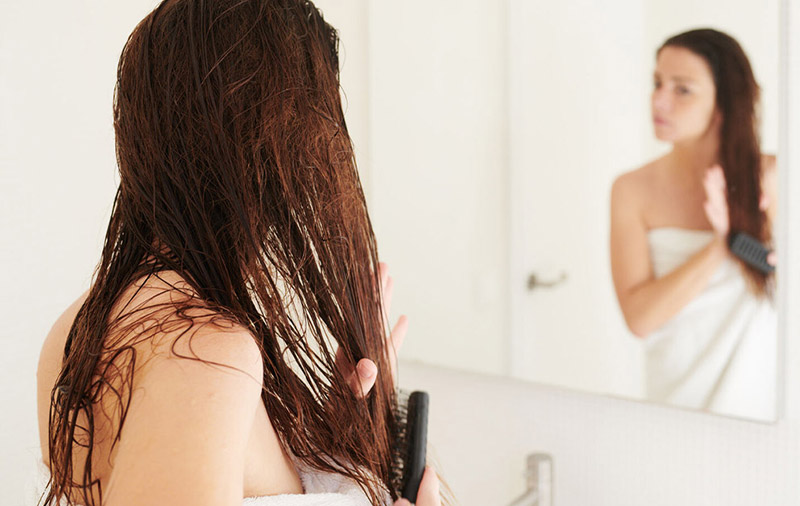 Using Coconut oil for hair overnight
People use coconut oil for hair growth overnight as it nourishes the hair while you sleep, penetrating the hair cuticles and the scalp. A healthy scalp is necessary for the growth of your hair. Coconut oil will strengthen the roots of your hair to have less hair fall and faceless hair thinning, which will end up in long healthy hair later on.
So, if you have a busy schedule and cannot find any time for hair care, apply coconut oil before going to sleep and wash it off in the morning before getting to work. The oil will do all the work while you sleep peacefully and give you healthy long hair.
What kind of coconut oil is best for hair?
You will find two kinds of coconut oil in the market, one would be refined, and the other would be unrefined. When you are looking for the best coconut oil for hair, go for the unrefined one.
If you can find an organic one, that will be a great choice too. Now, if you are wondering which one is refined and unrefined, here's a guideline for you. Refined coconut oils are collected from dried coconut kernels, while the unrefined ones come from fresh raw coconuts.
Also, the refined coconut oil goes through several processes and gets bleached and deodorized. But, the unrefined coconut oil stays pure as no chemicals are added to it and it still has that raw coconut aroma. The cold-pressed oils are also suitable for you as it means that there was no extra heat or chemicals used in the making of that oil.
How to apply coconut oil to hair
There are many ways to apply coconut oil to hair. If you want, you can use it in a hair mask or use it as an oil and apply it to your hair. The different ways of applying oil bring out different benefits of coconut oil. The uses of coconut oil mostly depend on your hair type and your preference.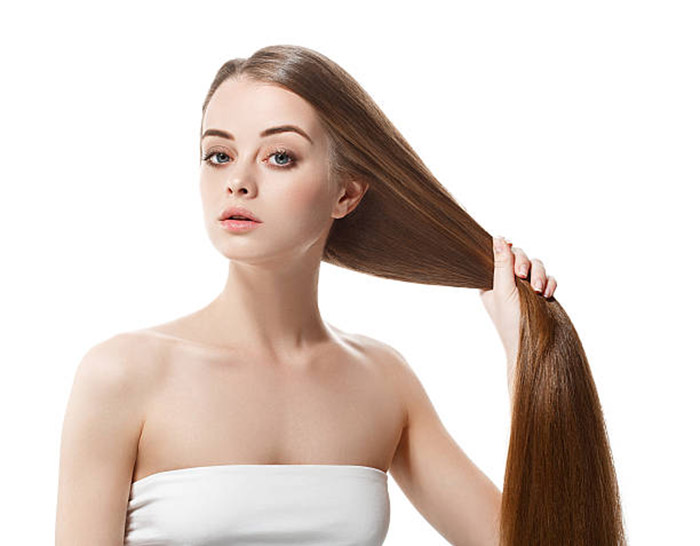 How to Apply Coconut Oil as a Hair Mask?
A coconut oil hair mask can be really helpful for damaged, rough hair that needs deep conditioning to get its health back. Using it twice a week can make sure your hair gets its lost life back and gets longer, softer, and shinier. However, try to get the unrefined organic coconut oil for the best results.
01. Make it Liquid Form
Firstly, start by warming up the coconut oil so that it gets in a liquid form. When you get the coconut oil from the jar or the bottle, you will notice it is solid or thick in texture but not liquid. There is nothing to worry about here. Just take the oil in your palm and rub and rub your hands together. This will warm up the oil and get it back in liquid form. Or else, you can heat it up on the stove in very low heat. Make sure you do not burn the oil and the hot is not too hot. You just need it in a liquid form, that is all.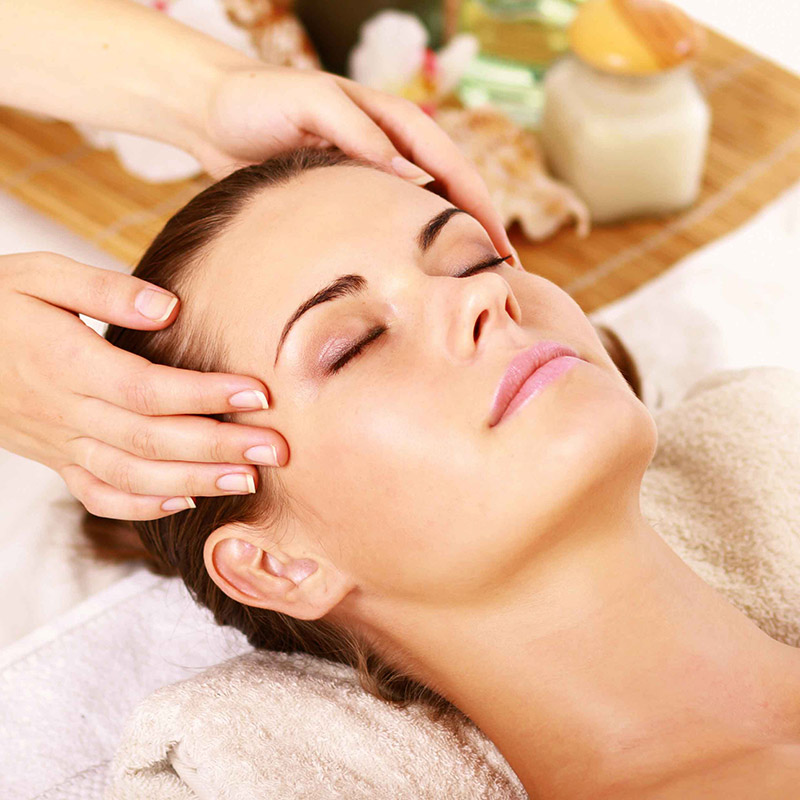 02. Massaging and Mixing
Secondly, take that oil and start by gently massaging the scalp with your fingers and then moving on to the mid-portion of your hair. To nourish your hair more, you can mix the oil with yogurt, lemon juice, eggs, or honey. Once you are done massaging the scalp and the midsection, apply oil to the ends of the hair too. Then use a wide-tooth comb and brush through the hair to detangle them and to spread the oil evenly. Massaging oil will help hair growth and make them stronger.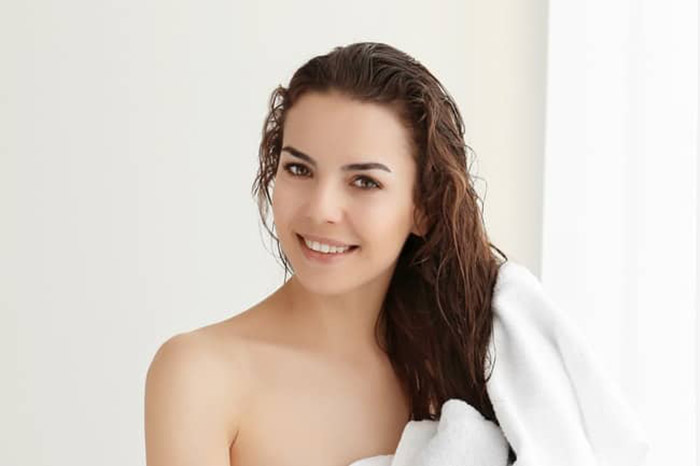 03. Waiting and Washing
Lastly, keep this mask on for at least thirty minutes to get the oil absorbed in the hair. This is the fastest way to condition your hair if you are in a hurry. Applying it just thirty minutes before washing it off with shampoo will also give you a deep conditioning treatment. However, if you need extra hydration for your hair, you need to keep it longer and, if possible, keep it overnight.
A shower cap can cover your hair while you sleep to avoid messing up your favorite pillow. Then, wake up the following day and wash your hair off with shampoo, and you will feel that your hair has gotten softer and silkier.
How to Apply Coconut Oil as a Hair Oil?
If you have a busy routine and do not have time for a hair mask but need the goodness of coconut oil in your hair, then you are at the right place. Here we will share some coconut oil uses that you can add to your daily routine, which will not take too much time from your schedule.
01. Melt to Liquid
Firstly, you can start by warming up the coconut oil by rubbing them in your hands. But make sure you have less amount of oil while you do so. Warming up will melt the solid form of oil and get it in a liquid state that will easily spread on your hair. However, you can also use the stove and heat up the oil in low heat.
02. Apply from Scalp to End
Secondly, apply a small amount of coconut oil on the ends of your wet hair after taking a shower. Then slowly move towards the midsection of the hair. There is no need to go to the scalp as it can make the hair look greasy. Applying oil to wet hair will help it detangle easily and make it more manageable when it dries. This will ensure less breakage and give you healthy long hair.
03. Massaging
Lastly, comb through your hair after applying your coconut oil so that it distributes evenly. If you use a blow dryer to dry your hair, we recommend using a heat protectant as the coconut oil does not save the hair from heat but works to lock in moisture. So, your hair will be soft and healthy even after using heat for styling.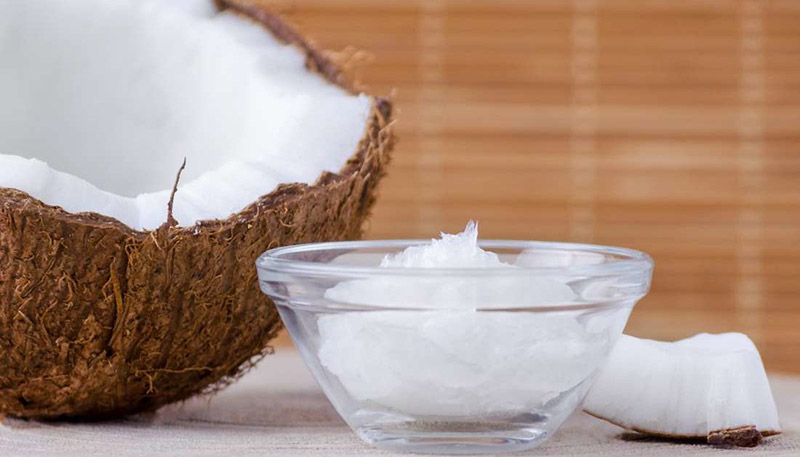 How to use coconut oil on hair?
For different conditions you may have to follow different procedures to use coconut oil on hair. We believe the three conditions below will meet your requirements of using coconut oil on hair.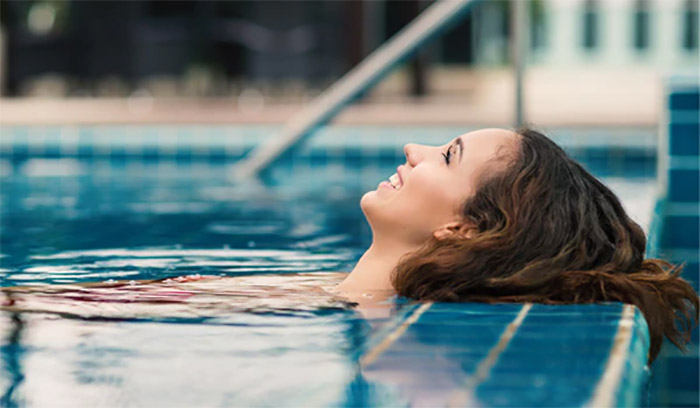 01. Using coconut oil while swimming
Applying a little portion of coconut oil to your hair before diving into the water can save your hair from harmful chlorine and saltwater. The oil works as a protective shield for your hair as you enjoy your time in the water.
02. Coconut oil to tame frizz
Hair frizz is common if you live in a humid area. They never seem to leave no matter what you do. But coconut oil works best for them. If you have never tried this, go ahead and apply some on your hair and see the frizz disappear. Just do not use too much unless you want your hair to look greasy.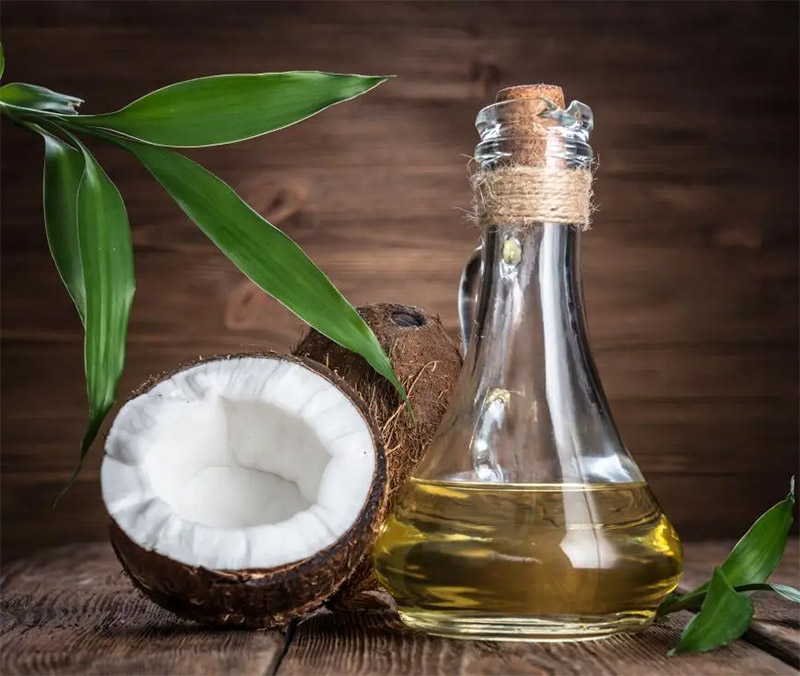 03. For dry and damaged hair
Coconut oil will nourish and provide enough moisture to your dry and damaged hair that will bring back the healthy shine in it. After washing it out, you can see the visible results of how it has reduced the number of split ends on your own. It has some repairing agent to ensure your hair gets all the love and care it deserves.
Questions & Answers regarding Benefits of Coconut Oil to Hair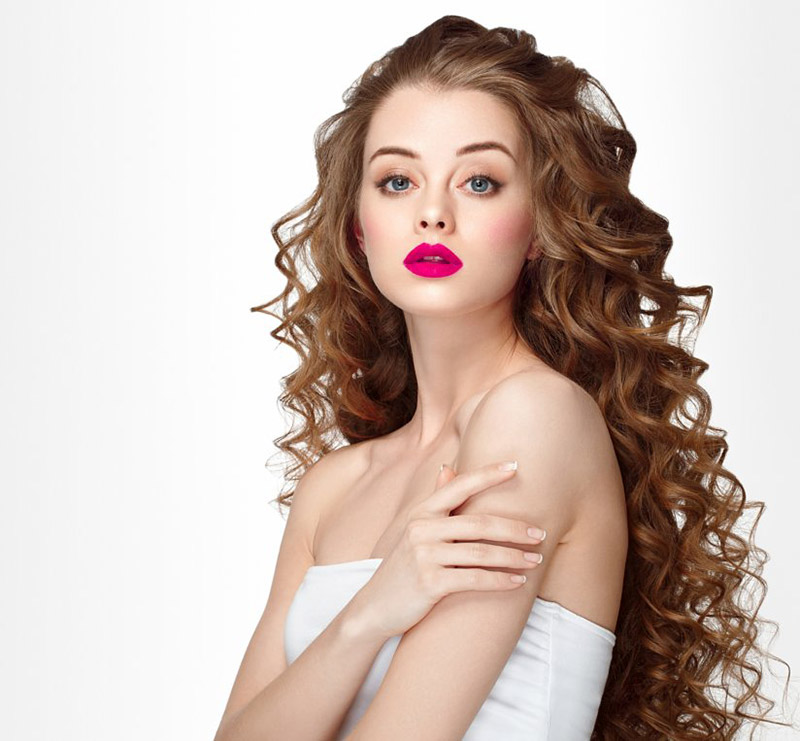 Does coconut oil change hair color?
No, it will not. Coconut oil does not affect the color of your hair. So there is nothing to worry about if you have recently colored or bleached your hair. The only thing coconut oil does is moisturize and nourish hair.
How to melt coconut oil for hair?
You can simply put a little amount of coconut oil in a small bowl and warm it up in the microwave for half a minute to melt it. Or you can take some in your palm and rub your hands together before applying it to your hair.
What to mix with coconut oil for hair growth?
Mixing castor oil with coconut oil in equal parts can help promote hair growth. These oils make the roots healthy and strong, making the hair grow longer faster, giving it all the necessary vitamins and fatty acids.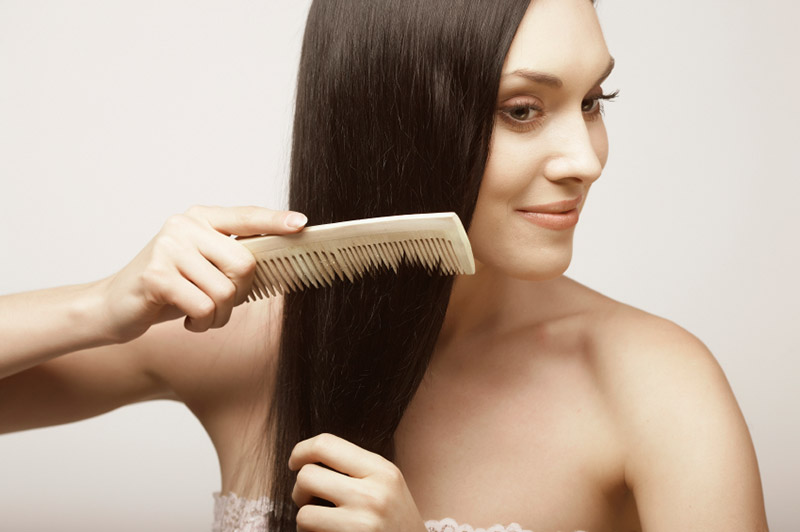 Coconut oil for dry hair?
Most of the oils available in the market are in thick consistency, absorbing hard for the hair. Coconut oil is light and can penetrate dry hair easily. You just need to apply some oil gently on the scalp, the ends, and the midsection. Try keeping it for at least half an hour, then wash it off to have healthy hair.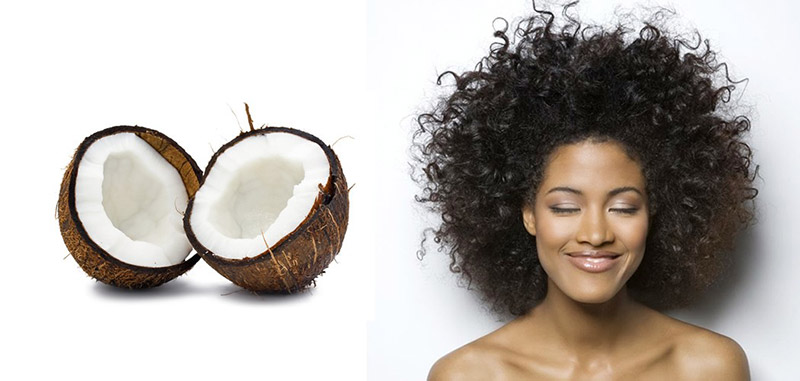 Coconut oil for curly hair?
Coconut oil works great on curly hair too. The process is the same. Massaging oil regularly increases blood flow, making it grow faster. As the hair absorbs the oil, it will get softer and more manageable than before. Curly hair often turns into frizzy hair. A dollop of coconut oil in the hair can tame them down easily.
Is coconut oil good for hair breakage?
Coconut oil has lauric acid that helps nourish the hair. It is easily absorbed in the hair, healing breakages, and taming frizzes. Coconut oil also creates a protective layer and saves the hair from sun, wind, and pollution to retain the protein loss that reduces hair breakage.
Coconut oil for damaged hair?
Coconut oil is easily absorbed as it penetrates the hair shaft quite well, which can effectively smoothen damaged, uneven hair. It also prevents dry hair and tames frizz making it one of the most effective hair treatments available.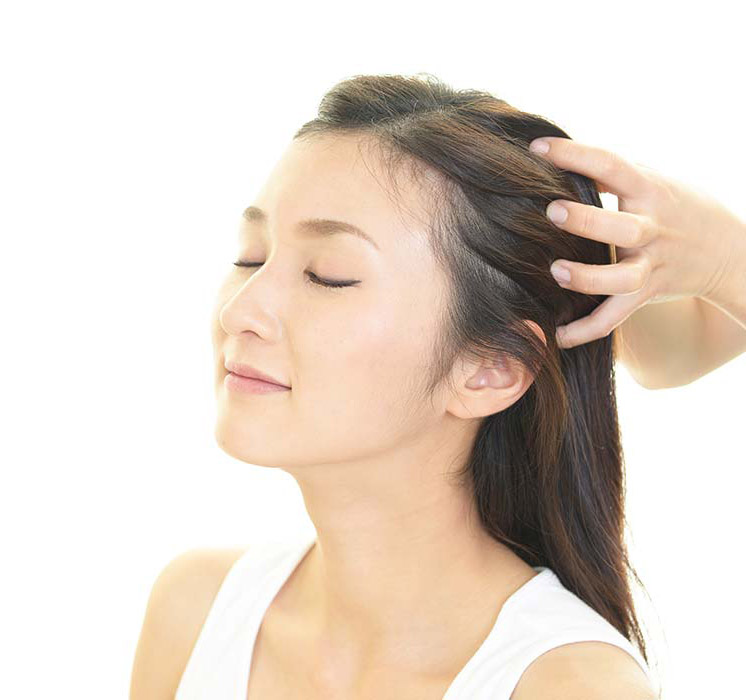 Coconut oil for hair loss?
People facing hair loss problems can get coconut oil as it prevents breakage, protein loss and moisturizes the scalp to slow down hair loss.
Can you leave coconut oil in your hair for days?
You have already heard that the longer you can keep coconut oil, the better. But it does not mean that keeping it on for days will do well too. Do not keep the coconut oil in your hair longer for days if you want to hydrate your hair because the protein and amino acids in the oil will instead make it more greasy and slow down hair growth.
How often should you put coconut oil in your hair?
If you can apply coconut hair two to three times a week, it should be enough to hydrate your hair and make it healthy.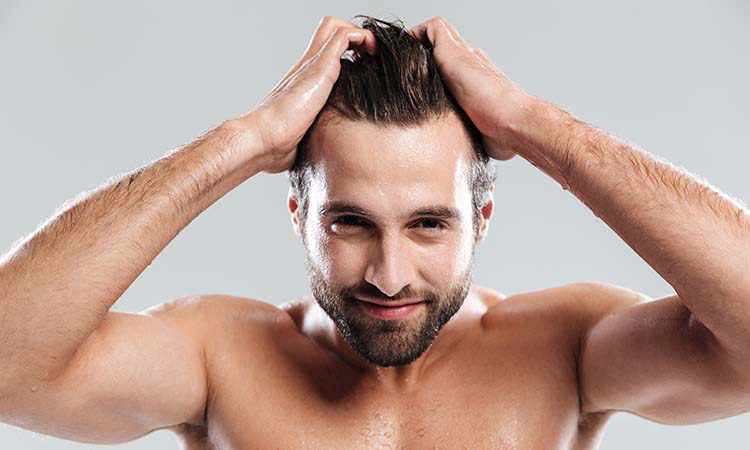 Is Coconut oil good for men's hair?
Coconut hair naturally helps men's hair by enhancing blood circulation on the scalp. It keeps the scalp cool and protects it from getting dry or damaged.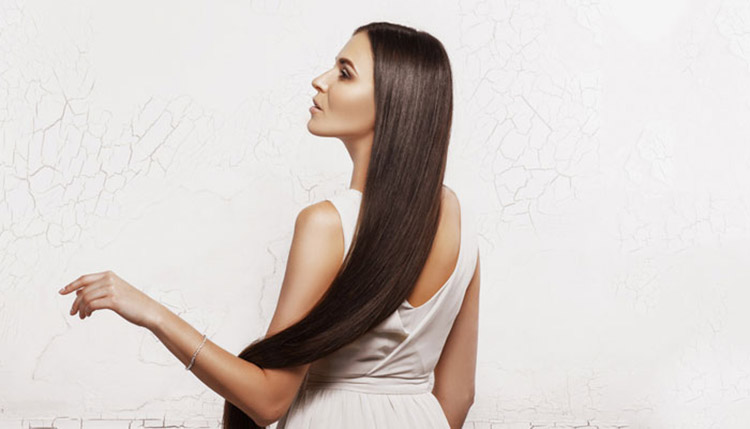 Coconut oil helps with hair growth?
Yes, by improving hair and scalp health the coconut oil helps the growth of hair for both men and women.