For a confident look, you must need a list of makeup items as a beginner in 2023. If you want to keep a complete makeup kit at hand, then this article is yours.
Today's makeup list for beginners in 2023 has added some new such products that will also help the pro marketers to come out with a shiny look. One must-see: World's Top Cosmetic Brands.
Makeup has become a famous hobby or profession for both men and women in this contemporary world. It is a beauty aid that is experimented with worldwide. For a flawless appearance and to be more attractive, makeup products are being bought largely. We published just now: 09 Solutions on Foundation Look Patchy.
Especially, women in the workplace or party find confidence in a slaying makeup look. A perfect look can bring many options in hand as well. Let's see how rose water helps your face.
But the beginners always find it hard to know about each and every makeup product accurately. That's why we've created a simple and basic makeup list.
Here is the list of the Best Makeup for Beginners 2023
Price Range: $50-$300 USD
Usages: Apply your moisturizer to clean, slightly damp skin.
Importance: (High Important) Moisturizer cream Reduces Skin Problems
Popular Products: Then I Met You Calming Tide Gel Cream, Clinique Superdefense Broad Spectrum SPF 25, E.L.F. Holy Hydration! Face Cream Fragrance Free, Sunday Riley Ice Ceramide Moisturizing Cream, etc.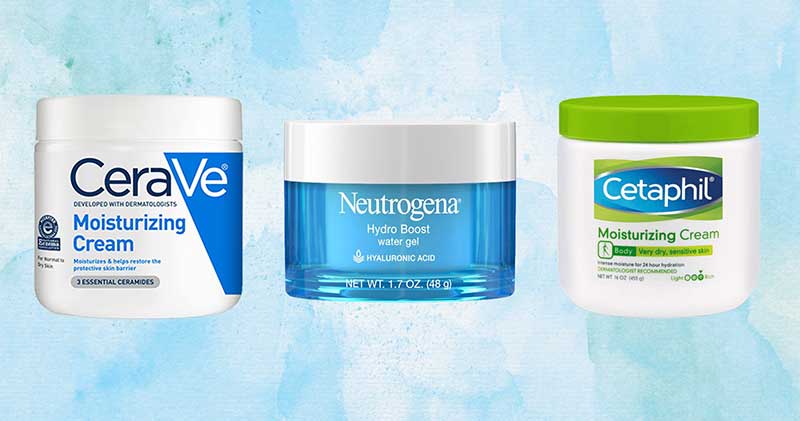 Having a moisturizer cream is the first item in the list of makeup products in 2023 to start with your makeup. Even if you are not up to putting any makeup on your face still you should moisturize it with a moisturizer.
As a good skincare regimen, a good moisturizer cream should be used appropriately. The moisturizer that contains a large number of vitamins and an SPF should be selected.
The PABA-Free SPF 15 moisturizer protects your skin from the sun and prevents wrinkles as well as premature lines. Again, vitamin A, B5, C, and E create firmness in your skin fighting skin damage.
To save your skin from extreme oiliness or dryness there is no alternative to Moisturizer cream. Also, it helps to set your makeup on the skin very well.
Price Range: $20-$150 USD
Usages: Use in your face and body screen
Importance: (High Important) It Protects Your Skin from UV Rays
Popular Products: Neutrogena Ultra Sheer Dry-Touch Sunscreen, Aveeno Baby Continuous Protection Zinc Oxide Sunscreen, Coppertone Pure & Simple Kids Sunscreen LotionBare Republic Mineral Face Sunscreen Lotion, etc.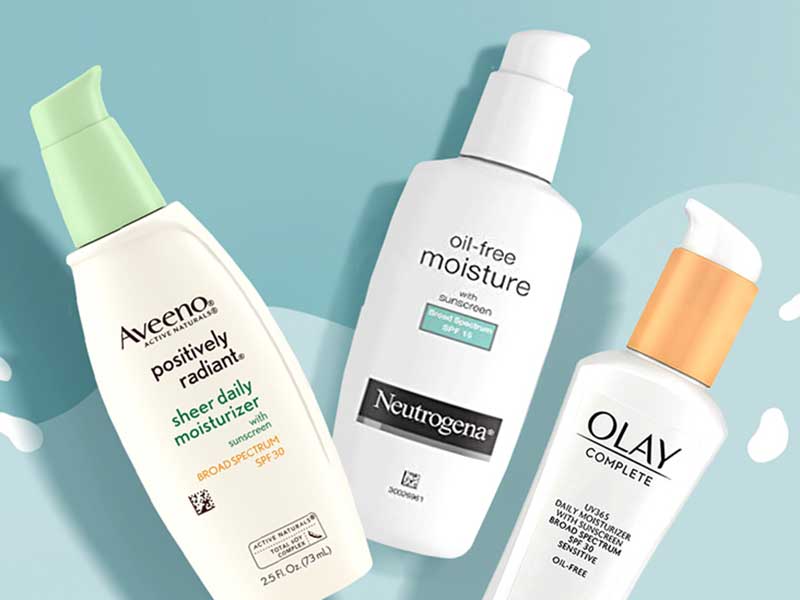 Sunscreen is the 2nd top item of your 2023's makeup product list. To protect your skin from harmful UV rays, you should always put on a good sunscreen cream.
Many wear it only in the summer season whereas it should be a year-round cream to put to keep your skin healthy. Even in cloudy weather 80% of the sun rays can pass through. A good sunscreen cream also works as a good moisturizer for your skin.
Sunscreen cream also reduces the risk of skin cancer and it helps to reduce the premature aging lines. It also helps in maintaining an even skin tone so that the foundation you will put later on in your face for makeup purposes blends perfectly with your skin and your skin looks smooth.
Price Range: $10-$99 USD
Usages: Use your face
Importance: (High Important) primer is to smoothen out the skin, making it look more polished and even.
Popular Products: Tatcha The Silk Canvas Filter Finish Protective Primer, e.l.f. Cosmetics Hydrating Face Primer, Glossier Priming Moisturizer Balance, The Ordinary High-Spreadability Fluid Primer, Fenty Beauty Pro Filt'r Instant Retouch Primer, etc.
Face primer is a part of parcel in the list of makeup essentials for beginners in 2023. It is a very important part of the whole basement. It can be liquid or creamy.
Face primer makes your face glowing and smooth. Also, it effaces the pores and suppresses the stubborn dead cells. Thus your face becomes sleek. Then you can put the main kits of makeup on your face. Nevertheless, the even skin sustains the heavy or light makeup for several hours.
And that's why face primer turns your face into a silky canvas. Face primer comes in different types. But most of them are watery in color. Otherwise, it can be tinted. After brightening the skin, the face primer offers a natural glowing by preventing the dullness of the face.
Price Range: $5-$50 USD
Usages: Use in your face.
Importance: (High Important) Foundation provides an additional physical barrier against the sun, pollution, and free radical damage.
Popular Products: Maybelline Fit Me Matte + Poreless Liquid Foundation Makeup, Milani Make It Dewy Setting Spray, COVERGIRL & Olay Simply Ageless 3-in-1 Liquid Foundation, Buff Beige, Covergirl & Olay Simply Ageless Instant Wrinkle-Defying Foundation, etc.
Foundation is the boss of the makeup basement and an important product of the full face makeup list for beginners in 2023.
It is the next thing that is to put in the face after using the face primer. Also, your foundation doesn't get cracked or on the verge of abolishing if you use face primer before putting the foundation.
However, the foundation helps to reduce the eye-catchy pores, pimples, and blemishes and brightens the skin tone. In addition to that, the foundation matches the high pigmentation and low-pigmentation areas of the face with the same color.
Apart from that, foundations come in different shades for different complexions of the skins. Hence, you have to choose your perfect shade wisely. A wrong foundation can change your face skin tone drastically from your body skin tone.
Price Range: $5-$30 USD
Usages: Apply several dots of concealer under the eyes close to the lashes.
Importance: (High Important) Concealer is like a magic eraser in your makeup case that helps you fake a fresh-faced look.
Popular Products: NARS Radiant Creamy Concealer, Tarte Shape Tape Concealer, NYX Professional Makeup HD Photogenic Concealer Wand, Bye Bye under Eye Concealer, Instant Age Rewind Eraser Concealer, etc.
Concealer is a great kit for face makeup and you must keep this kit in your makeup products list. It helps the foundation to cover the face more accurately.
Moreover, concealers reduce the dark circles and wrinkles under the eyes. Also, it lessens the edgy patches of the face because of the age. Thus, your skin looks younger. Concealer covers the dark scars and erases the pimple spot better than the foundation.
Concealer is also used to sharpen the eyebrows' finishing areas. It makes the eyebrows slayer. Also, to outline the eye-crease line, concealer is a great help. However, concealers come in a liquid or creamy condition. You've to match the concealer with your skin tone and foundation shade. Hence, you can have an evenly toned makeup look.
Price Range: $10-$50 USD
Usages: Apply BB cream to cleansed skin.
Importance: Less Important
Popular Products: Maybelline New York Dream Fresh BB Cream, Tarte Amazonian Clay BB Tinted Moisturizer, Clinique Age Defense BB Cream, Dr. Jart Premium Beauty Balm, etc.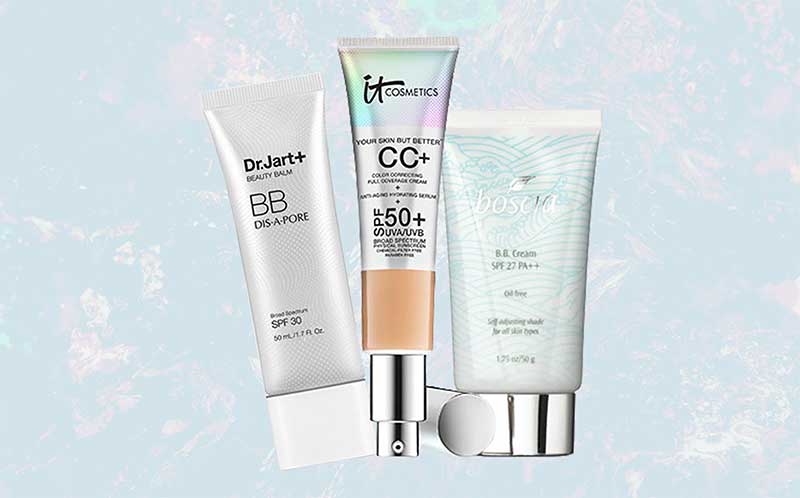 BB cream is a marvelous alternative to foundation. It is also called a beauty balm. This cream is so buttery that it polishes the face to remove the dullness.
To freshen and brighten the skin tone for a light day, BB cream provides great assistance. It covers up the little spot and unwanted moles of the skin. As a beginner you must keep a BB Cream in your makeup cosmetic list in 2023.
Also, if you are finding a bright face without doing the heavy makeup, BB cream is trustworthy for sure. It can last for a long time if you buy it from a branded shop. Besides, those BB creams are more effective that contain hydro solution and SPF for all-type skin. By removing the dehydrated effect, this cream works as a perfect day-cream.
07. Compact Powder/Face Powder
Price Range: $5-$60 USD
Usages: Take a compact powder during a shade that matches your skin tone and apply it everywhere the face with a sponge applicator.
Importance: High Important
Popular Products: Fenty Beauty Pro Filt'r Instant Retouch Setting Powder, L'Oréal Paris Infallible Pro Sweep & Lock Loose Powder, Laura Mercier Translucent Loose Setting Powder, MAC Mineralize Skinfinish Natural, Charlotte Tilbury Airbrush Flawless Finish Setting Powder, etc.
A compact powder is a must need for those who want their face to look fresh all the time. A quick touch up of the compact powder brightens the face and boosts up your confidence level. It comes with a compact size and it is almost like the loose powder though there are certain differences between them. For oily skin tone, compact powder performs very well.
Moreover, to set your foundation, compact powder is used mostly. It suppresses the basement of the foundation and thus covers the uneven spaces of the face during makeup. However, the compact powder can be used in bare faces as well. For dry skins, a moisturizer before putting the compact powder is recommended.
Price Range: $5-$40 USD
Usages: The best place to put it depends on the shape of your face.
Importance: (Important) The product can warm up cool-toned, fair skin.
Popular Products: Nars Blush in Orgasm X, Milani Baked Blush, Charlotte Tilbury Cheek To Chic Blush, Cheek Heat Gel-Cream Blush, Baby Cheeks Blush Stick, etc.
Pro list of makeup products in 2023 is incomplete without the blush. To accentuate your cheekbones and add a little bit of dimension you need blush to apply on your face. It should be applied on the apples of your cheeks.
The pink blush on your face adds a flush of different complexion that makes your makeup look great. But, as blushes are very pigmented you have to be very soft and careful while using them.
To have a rosy glow on your face during winter and spring, blushes are a great help. Again, you need to choose the right shade with your skin tone and the right blush brush to blend it perfectly. So, to make your cheeks more attractive put blushes on them.
09. Bronzer
Price Range: $10-$80 USD
Usages: In your face
Importance: Important
Popular Products: Chanel Les Beige Healthy Glow Bronzing Cream, e.l.f Primer-Infused Bronzer, L'Oréal Paris True Match Lumi Bronze It Bronzer, Too Faced Chocolate Soleil Matte Bronzer, etc.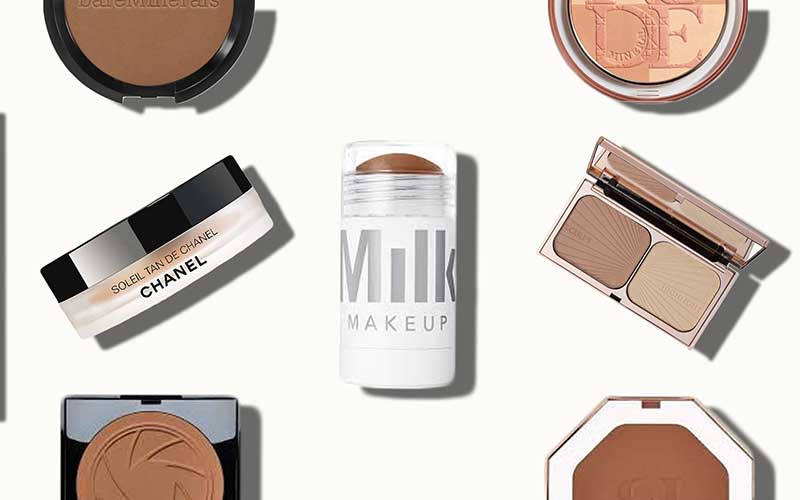 Bronzer is a pro makeup kit for the beginners and must have items in the makeup product list. Like the blush, an improved bronzer formula is also needed to give your makeup an attractive look.
To look at your skin healthier and add warmth to the overall look you should always count on bronzers. A bronzer with a little shimmer on it gives your cheekbones a halo of a glow. Some get confused with the blush and bronzer.
Blushes are meant to be put only on cheekbones whereas the bronzers are applied on jawlines, cheekbones, and brows. To have a well-contoured face in the evening looks, bronzers are always the best options.
Price Range: $10-$50 USD
Usages: Use your face
Importance: Important
Popular Products: Fenty Beauty Match Stix Trio, L'Oréal Paris Infallible Total Cover Concealing & Contour Kit, Anastasia Beverly Hills Powder Contour Kit, Kat Von D Shade + Light Crème Contour Palette Refillable Pan, Aesthetica Cream Contour Kit, etc.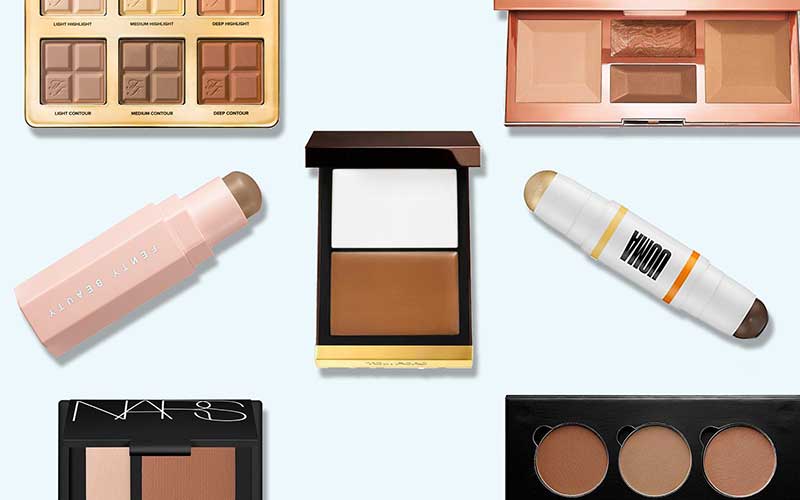 Many think that bronzer and contour are the same things in makeup. But, it is not. In the case of bronzing your face, you do not have to be more specific whereas in the case of contouring you have to specify the key spots of your face. The more specific you apply the contour, the more natural the makeup will look.
Contours come in both powder and cream. No matter what formula you are using for contouring you just need to blend it very well. Hence, choose the brush carefully. If you do not blend it perfectly the harsh edges will take the place and the overall look can be destroyed.
Price Range: $10-$60 USD
Usages: Use your face
Importance: Important
Popular Products: L'Oreal Paris True Match Lumi Glow Highlighter Palette, NYX PROFESSIONAL MAKEUP Strobe of Genius Holographic Stick, SEPHORA COLLECTION Golden Hour Luminizing Powder, etc.
A highlighter is the most fun-to-do part of makeup. It can be considered a nice item of the 2023's makeup cosmetics product list.
Highlighters are highly pigmented and they leave a sparkle and glowing vibe in your face. Especially, the cheeks and lower-boned part of the eyebrows look extremely shiny after using the highlighter in makeup. Also, it bounces up the cheeks to put it on spot.
It reflects the light by creating an illusion with its pigmentation. Dark complexion prefers silver highlights on the face to highlight the definite spots. On the other hand, fair skin prefers golden highlighter largely. Highlighters can be found in cream, liquid, compact, or powder condition.
12. Setting Spray/Powder
Price Range: $10-$60 USD
Usages: Once all of your makeup is applied, then applied setting spray.
Importance: High Important
Popular Products: Urban Decay All Nighter Long Lasting Setting Spray, e.l.f. Matte Magic Mist & Set, KIKO Milano Face Make Up Fixer, NYX Professional Makeup Matte Makeup Setting Spray, Maybelline New York Facestudio Lasting Fix Makeup Setting Spray, etc.
Setting spray is the last important thing that has to be done to last your makeup long. Setting powder can also be used as the substitute for the setting spray. Moreover, it sustains the same look from beginning to end after makeup.
For a heavy makeup look, setting spray is a must have cosmetic item in your makeup product list. It helps the foundation to hold the brightness for a long time.
Also, the highlighter remains on the spot just because of the setting spray. Setting powder does the same thing. For a long-lasting fresh makeup look, setting spray helps big time.
13. Eyebrow Product
Price Range: $3-$99 USD
Usages: Eye
Importance: High Important
Popular Products: Benefit Cosmetics Gimme Brow+ Volumizing Eyebrow Gel, Glossier Boy Brow, Anastasia Beverly Hills Dipbrow Gel, Urban Decay Brow Blade Ink Stain + Waterproof Pencil, Uoma Beauty Brow-Fro Fro to Go, etc.
The eyebrow is a sensitive and effective part of the whole face while you're doing makeup. Outlining the eyebrows perfectly can change your entire look.
Eyebrow products come with several kits – a thin brush, pigmented kajal. You have to draw upon your eyebrow to make them look more specific, volume, and at the same time natural.
Too much use of the eyebrow product can make your eyebrows look artificial. You don't want to look like a clown. To get piercing eyebrows you should know the shape of your eyebrows according to your face type.
Price Range: $3-$329 USD
Usages: Eye
Importance: High Important
Popular Products: Wild Eyes Eyeshadow Palette, Anastasia Beverly Hills Soft Glam Eyeshadow Palette, SEPHORA COLLECTION Eye Love Eyeshadow Palette, Urban Decay Naked3 Eyeshadow Palette, e.l.f. Cosmetics Mad for Matte Eyeshadow Palette, etc.
Eyeshadow is an important item in the list of makeup products for beginners in 2023. If you want your eyes to look popping, eyeshadow plays a great role in that case. For fancy art, eyeshadow is a great experimental thing.
It makes your eyes more attractive when you put it right in your eyelids. Eyeshadow is pigmented. Moreover, your eyes enhance more when you put the eyeshadow by matching your dress color.
Nevertheless, many eyeshadows require an eye primer. The glittery eyeshadow requires glue to be fit in between the eye-crease. However, it needs the patience to master the art of applying eyeshadow in the eyes because an amateur might blunder the whole eye look.
Price Range: $4-$12 USD
Usages: Eye
Importance: High Important
Popular Products: Marc Jacobs Velvet Noir Major Volume Mascara, Pat McGrath Labs FetishEyes Mascara, E.L.F. Cosmetics Lengthening and Volumizing Mascara, Maybelline Lash Discovery, etc.
Without mascara getting a full fascinating eye-look is incomplete. Mascara should be a must have kit in the list of makeup products in 2023.
By extending the eye-lashes, mascara helps the eyes pop. The brush of the mascara comes in different shapes. Some brush increases the volume of the lashes and some thicken them in a great way.
Also, mascara tends to dark the eyelashes to make them noticeably beautiful. It entirely coats your eyelashes with a darker shade from the actual eyelashes. It helps to make a huge definition. As the eye and the parts of the eye are sensitive, a well-branded mascara is suggested.
Price Range: $3-$30 USD
Usages: Eye
Importance: High Important
Popular Products: Marc Jacobs Highliner Gel Eye Crayon Eyeliner, NYX PROFESSIONAL MAKEUP Epic Ink Liner, Maybelline Eye Studio Master Precise Liquid Eyeliner, Stila Stay All Day Waterproof Liquid Eye Liner, NYX Professional Makeup Epic Ink Liner, Kat Von D Tattoo Eyeliner, etc.
For your daily makeup routine, the eyeliner will enhance the whole look a lot better. Putting eyeliner on the upper lids of your eyes is not an easy task. But once you are done with the eyeliner you will see the difference and how beautifully it defines the whole look of your eye.
Eyeliner adds thickness to the lashes and it also widens and brightens your eyes. The color of your eyes pops and easily seeks the attention of others. Making the eyes seem wide awake and larger, eyeliners also work beautifully on your expressions.
17. Eye Primer
Price Range: $3-$30 USD
Usages: Eye
Importance: High Important
Popular Products: Nars Pro Prime – Smudge Proof Eyeshadow Base, Urban Decay Eyeshadow Primer Potion Anti-Aging Mini Mini, Too Faced Shadow Insurance Eye Shadow Primer, Covergirl Lid Lock Up Eyeshadow Primer, Smashbox 24 Hour Photo Finish Shadow Primer, etc.
Like a face primer, an eye primer is also needed to give an extra texture to the eye skin. Putting eye primer before putting on eye makeup or eye shadows helps to last long the eye makeup. It also makes the eyelid way smoother and the shadows are likely to be easily blended for it.
Eye Primer may seem to be a new item in the makeup product list. To prevent creasing of powdery and highly pigmented eyeshadow, eye primer is a must. Fading and smudging of the eye makeup can also be prevented by using an eye primer.
18. Lip liner
Price Range: $3-$47 USD
Usages: Lips
Importance: High Important
Popular Products: Charlotte Tilbury Lip Cheat, Buxom Plumpline Lip Liner, NYX Professional Makeup Slim Lip Pencil, NYX Slim Lip Pencil, Le Lip Liner, etc.
To define and give a perfect shape of your lip you need to use a lip liner. With a lip liner, you are supposed to fill in the outer edges and the uneven areas of your lip before you put on the lipstick inside. It helps to put your lipstick perfectly without bleeding outside the edge.
To correct uneven or thin lips, lip liners are a great help. Match a lip liner with your lipstick and see the difference on your own.
Price Range: $1-$12 USD
Usages: Lips
Importance: High Important
Popular Products: Stila All Day Liquid Lipstick, Meet Matte Hughes Long-Lasting Liquid, L'Oreal Colour Riche Lip Colour in Fairest, L'Oreal Colour Riche Lip Colour in Fairest, Maybelline Color Sensational Lipstick in Red Revival, MAC Lipstick in Ruby Woo, etc.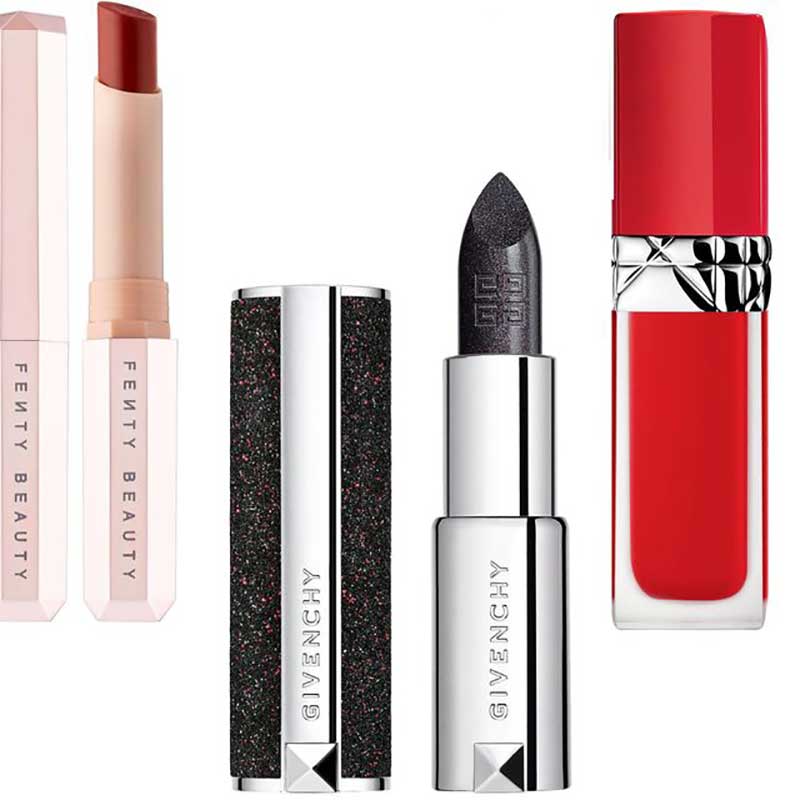 Lipstick is the most important item in the makeup product list. Undoubtedly, without wearing lipstick, a makeup look is totally incomplete.
To give your face a complete and gorgeous look only lipstick is enough. There are different shades of lipsticks available in the market. Only a shade of lipstick can take your whole look to a very different level.
A nude color lipstick will give you a calm and elegant look whereas a dark matte or glossy lipstick will give you a bold and gorgeous look. Now, the choice is yours.
Price Range: $3-$30 USD
Usages: Lips
Importance: High Important
Popular Products: Fenty Beauty Gloss Bomb Universal Lip Luminizer, Maybelline New York Lip Lifter Gloss with Hyaluronic Acid, Glossier Lip Gloss, Charlotte Tilbury Collagen Lip Bath, Stila Cosmetics Beauty Boss Lip Gloss, etc.
To have a light and glossy luster makeup look a lip gloss will help a lot. To add a subtle color to your lip along with the lipstick, lip glosses are very much useful. Most lip glosses come with an applicator that is easy to use. Also, they are very easy to put on. You can use them over your lipstick, or you can put some on the bare lips. Again, lip glosses always keep your lips moisturized saving them from drying.
#Top 10 Best Makeup Products for Beginners in 2023
Moisturizer Cream – Price Range: $50-$300 USD
Sun Screen Cream – Price Range: $20-$150 USD
Face Primer – Price Range: $10-$99 USD
Foundation – Price Range: $5-$50 USD
Concealer – Price Range: $5-$30 USD
BB Cream – Price Range: $10-$50 USD
Compact Powder/Face Powder – Price Range: $5-$60 USD
Blush – Price Range: $5-$40 USD
Bronzer – Price Range: $10-$80 USD
Contour – Price Range: $10-$50 USD