As a beautician, I frequently get this question "Why does my foundation look patchy and dry?" and what are the solutions for different types of skins?
Skincare and makeup both are important to have a sleek and attractive look that will boost your confidence and help you slay like a queen. But what if the skincare is not suiting your skin, and it is causing your face to dry out? It will ruin the base of the foundation, and no matter how hard you try, the foundation will look dry and patchy.
The art of makeup is not so easy that one can master it in a day, so there will be some mistakes to learn from. One of the most common mistakes everyone faces is the patchiness of the foundation, which ruins the makeup base. If you do not have an even smooth makeup base, the end result will be horrifying. For sure, you do not want that. You may check our recent publication on the List of Makeup Products for Beginners.
Get ready to note down as we talk about the reasons and solutions to fix the foundation from getting patchy and dry. You can also check the best-branded foundation for your skin type.
Why Does Foundation Look Cakey, Patchy and Dry?
If you are just a beginner at makeup, it is normal to face the problem of cakey makeup. You probably want to know about the cakey foundation and the non-cakey foundation. But it is not the foundation that is making your makeup look cakey. The reason behind your cakey makeup could be the fact that you do not use a primer or the ones you use are incompatible formulas that do not work well with each other. One must-see: World's Top Cosmetic Brands.
Another reason could be the tools you are using to apply foundation are not the right tools, and if you have dry skin, using powder on foundation will make it cakey no matter what.
1. You don't pick the right foundation's shade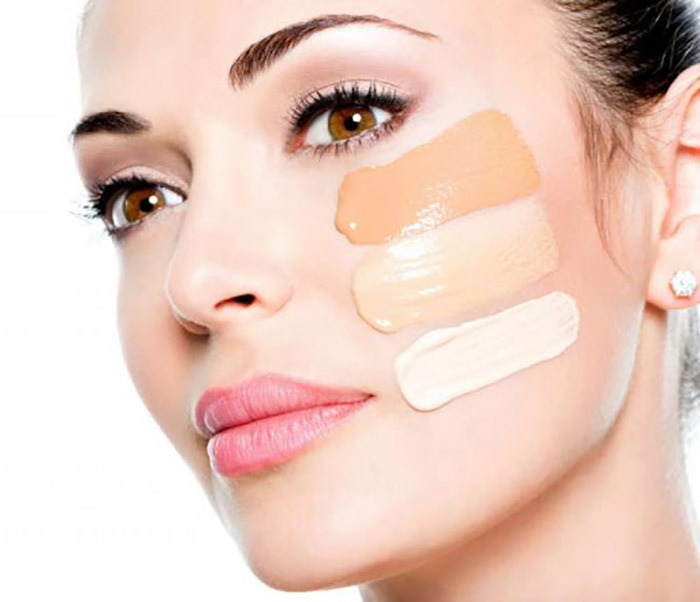 Foundation shade can be one of the reasons to look patchy and dry. Picking the wrong foundation can either make your face look too grey or too orange. So it is really important to pick the one that matches your skin tone. Try to pick your foundation shade in natural daylight so that you can see the colors perfectly. It is also good to check if the foundation will oxidize and get darker before you buy it.
2. You apply too much foundation
Applying too much can make your foundation look patchy and dry. According to many people, applying too much foundation will make you look prettier. However, that is not the truth. If you put on too much foundation, it will just end up looking cakey and unattractive.
Instead, only apply foundation on the problematic areas that need coverage or apply a light amount of foundation to even out the skin pigmentation. Always start from the center, like the nose area, and slowly move towards the jawline.
3. You don't consider your skin tone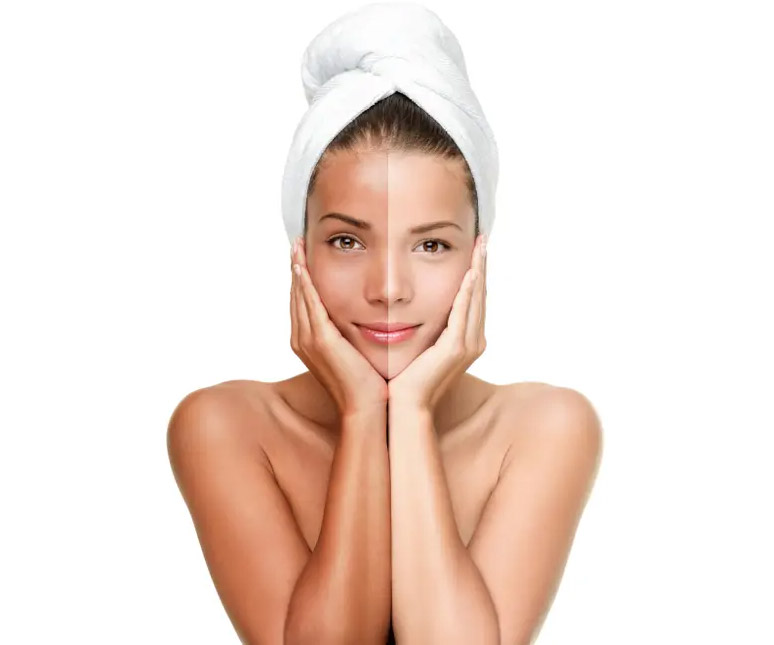 Knowing whether you have cool-toned skin or a warm one plays an important role when you are matching your shade. The makeup brands are now introducing products that value skin tones. If you do not know your skin tone, then here is a quick tip. Notice the way you tan.
Yes, you read it right. Studies have shown that people with cooler tones tan cinnamon or pink shade, while warm-toned people rarely get any tan. The cool-toned skin must go for the cooler-toned foundation, while the warm toned foundation goes for the warm toned foundation.
4. You don't prep your skin properly before applying foundation
Prepping your skin is also an important part of applying makeup. If your dry skin is well hydrated, it will not get dry and will have patchy skin. Start by removing everyday makeup and moisturizing.
Use any kind of serum or cream before foundation and let it sit for a while or two so that that goodness is soaked up well. You may need to use a face wash for prep and avoid your foundation looking patchy and dry.
5. You forget to apply primer before your foundation
The primer helps by creating a barrier that can keep the moisture locked in. If you have dry skin, it will try to get moisture from the foundation, making the makeup patchy. You can check the best primer for your skin.
6. You don't set your makeup properly
If you want the foundation and makeup on your face to last all day, you must set it properly. You can take a small powder puff and dab powder on the parts that tend to get oily. Additionally, you can also try blotting paper to soak in the extra moisture.
7. You get foundation in your hairline
Getting foundation in your hairline can get annoying if you normally have grey or blonde hair as it will tint it down. Beauty experts suggest starting by applying foundation from the middle of the face and slowly moving on to the outer edge. This way, there will not be enough product left on the brush or sponge to get in your hair.
8. Your foundation doesn't match your neck
This one is the most common makeup mistake that people make. While applying makeup on the face, make sure you cover the neck too. Or else, the face looks different from the neck and makes you look as if you are wearing a mask. You need to blend your foundation from face to neck, not missing the ears, for an even makeup look.
9. You do not use the right tools for applying your foundation
Whether you are using the right tools or not to apply foundation is also a matter of concern if your foundation is getting cakey. People like to use a blending sponge or a foundation brush to apply the foundation all over the face. Some also prefer to use fingers to apply them.
Whatever tools you are using need to be clean and be able to blend the foundation evenly. For this, the experts prefer using clean fingers to dab on the foundation on the skin so that it absorbs it smoothly.
10. You don't consider the best formula for your skin type
One of the worst things about not knowing about makeup is wasting money on a foundation that does not match your skin. Different types of skin need a different formula-based foundation.
Dry skin needs more cream and oil-based products, while oily skin will need more powder products or those creams that are water-based. This will balance out the products with the skin leaving them healthy and nourished.
11. And you don't consider the best finish for your skin type
Different skin types require different finishes. Like if you have oily skin, you will prefer a matte finish and need powder-based products. But if you have dry skin, you will need a dewy finish that will look less dry. So, apply cream-based blush or highlighter on dry skin.
12. You're not cleaning your tools often enough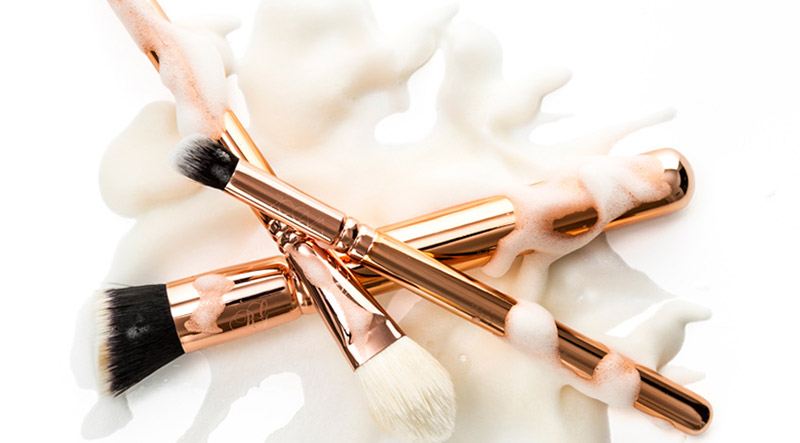 Not cleaning your makeup tools often can cause bacteria buildup. Believe me! You do not want those bacterias near your face. They hold on to the oils and powders on your brushes or sponges, and when you apply them to your skin, they transfer to your skin, causing breakouts and acne.
13. Certain ingredients may cause flashback
You probably have noticed that after applying sunscreen, there is a visible white cast on the skin. These flashbacks are the reason for certain ingredients like zinc oxide. The higher the SPF, the higher the chances are of getting a flashback. However, there are foundations and sunscreens available that cause no white cast whatsoever.
14. You apply your concealer under your foundation
Foundations are supposed to come after primer and before applying concealer. Or else the product buildup will be too much, and it will look cakey on the face. Concealer is not meant for full coverage on the skin, it should only be there to cover blemishes. It should come after you have used foundation to cover your whole face.
15. You don't use the right cleansing products
If your skin is dry, try to choose cleansing products with ceramides and natural lipids to protect the skin from losing its natural moisture. Ceramides help to build a protective layer on the outer skin, so it retains moisture. Also, try adding a toner to your skincare routine. Apply it in the morning and night. Toners with hyaluronic acid help to build the barrier stronger.
16. You don't moisturize enough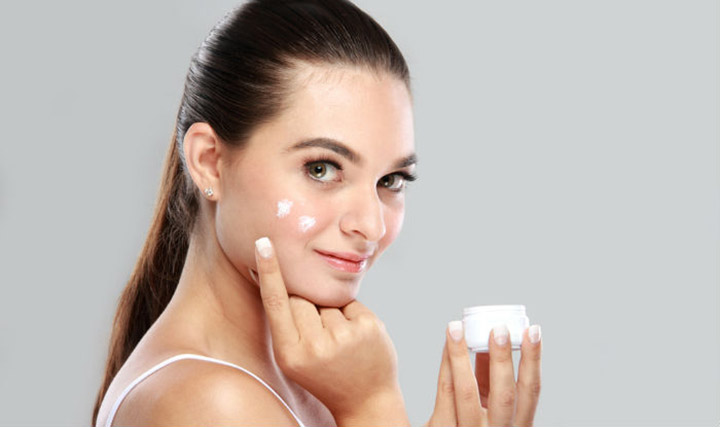 Another reason behind your dry skin could be the fact that you do not moisturize enough, which can cause your skin to get dry. The pores will also get clogged due to the makeup you use without using a moisturizer.
It is better to go for a moisturizing cream than a lotion because the cream works better as they are thicker and more hydrating than the lotion. Using face oils can provide vitamin E and other nutrients to prevent it from getting dry.
17. You never exfoliate
No one should skip exfoliation, no matter how busy your schedule is. It is a process to remove dead skin cells from your face so that the new cells can breathe and get all the nourishes from your other skincare routine. If you do not exfoliate, the dead cells will remain on your skin, giving you an uneven complexion and dry patchy foundation. It is better if you can exfoliate three times a week to get better results.
18. You don't use a hydrating primer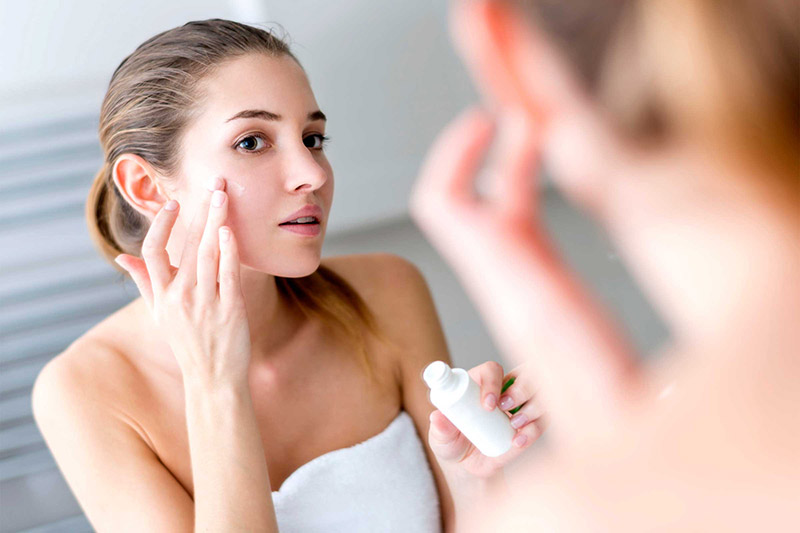 If you do not use any hydrating primer, go get one with dimethicone now! A hydrating primer will moisturize and nourish your dry skin so smoothly the foundation glides on your skin. It will blend easily without any extra effort. Add a good hydrating primer to your routine to help get a smooth glam makeup look that will last all day.
19. You apply foundation with a brush
There are many ways to apply foundation to your face. Most people use a synthetic brush to buff the foundation on the face. This process is easier and hassle-free. But in this process, the foundation does not blend well with the skin. It shows brush lines and layers the foundation one after another. So it becomes dry easily and looks unattractive.
Instead, use a beauty blender that is easy to use, dampen the sponge first and squeeze out the excess water. Now you can apply it to the face to blend.
20. You powder your whole face
Powdering your entire face means that you will soak up all the necessary moisture and oil from your face. You need to powder only the area that tends to get too oily, like the T zone area. A little amount of powder can set the makeup and make it long-lasting. But if applied too much, the whole face will have a dry, cakey and patchy look.
21. You only use powder blush
Powder blush can dry out the already dried foundation on your face. Instead of using a powder blush, change to cream blush. A little will go a long way. It will hydrate your cheeks and make you glow.
22. You skip highlighter
You probably already know that the job of a highlighter is to highlight some areas of your face so that your face looks more attractive and starts to glow. If you have dry skin and the foundation is just making it cakier, use a highlighter. It gives a dewy type of look that will create the illusion of healthy, dewy, glowing skin.
23. You don't use a hydrating mist
Spraying hydrating mist hydrates your face immediately, making your face less dry. If you do not use it often, give this a try. A good hydrating mist will reduce dryness and help make your makeup last longer. Any hydrating mist that has hyaluronic acid or vitamin E will work. It melts down any dry powder on your face and gives an attractive soft glowing look.
9 Solutions on How to Avoid Patchy Foundation
1. Apply a good primer
Some people complain that " My skin looks bumpy with the foundation". The reason behind this is not using a good primer. A primer primes the face-covering all the bumps so that the foundation can look even on the skin.
However, if you also complain that your makeup never stays on even with primer, you use the wrong formula primer. A silicone-based primer will not blend well with an oil-based foundation, and the whole makeup will end up looking cakey.
2. Apply Less foundation
If you want to know how you can prevent cakey makeup you should apply less foundation, first. Tons of layers of foundation on the face make the foundation look dry and patchy. You do not need the foundation to cover up the whole face like a mask.
Instead, you want it to even out the skin pigmentation and cover the redness. So apply foundation lightly starting from the center of the face, then blend it out. You can also check the best-branded foundation for your skin type.
3. Choose the right foundation type for your skin
People have different types of skin, and there are foundations available for each skin type in the market. But first, you will need to know your skin type. Figure out if your skin is oily, dry, sensitive, or a combination. You can also find out your skin tone to find the correct shade. Knowing the skin type is important for the foundation to stick.
You will end up with an oily, greasy face if you use a foundation suitable for dry skin on an oily face as it will contain more oils than the one suitable for oily skin.
4. Mix moisturizer and foundation
Mixing moisturizer with the foundation can give a natural and sheer look. Add a bit of face oil, and it will glide on your face smoothly. You will admire the light feel on the skin and the glow it will bring to your face.
5. Try a sample before you buy!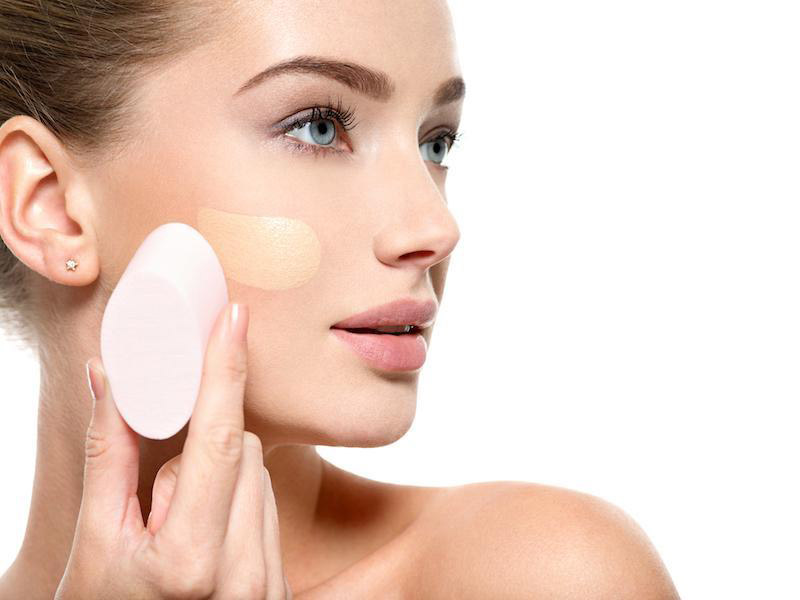 Trying out a sample is always a good idea before investing money in a regular size foundation. This way, you can be sure of the shade and the type of the foundation before buying it and know if it will suit you or not.
6. Use the right tools and clean them often enough
You can either opt to use a foundation brush or a blending sponge to apply foundation. However, the sponge soaks up the excess product, so you need to clean it after every use. The same goes for the brush. If you do not clean them every week, they will collect oil and dirt. Which will clump on your skin, making your face look patchy.
7. Set the foundation
You can use a tiny amount of setting powder on your face after you have applied foundation. This will set the foundation in its place. Feel free to use the powder puff to set the loose powder on. However, do not apply too much powder as it can look cakey on the skin.
8. Finish with a setting spray
A setting spray is essential as it sets all the moisture and makeup in place. It also means that it is less likely to wear off or get dry. Invest in a good setting spray that can keep your skin healthy. As most of the setting spray has alcohol in it, this can turn your skin dry. Occasional uses should be fine, though.
9. Foundation is separating in the bottle
If you find your foundation separating in a bottle, it means the oil and liquid base have separated. This occurs when the foundation is expired. Applying this to your skin might cause damage, and you can end up with acne or pimple problems.
Foundation Separating on Face
If you use products that do not match your skin, the foundation won't stick to your skin. Like if the foundation is oil-based, but the sunscreen you used is silicone-based. They will not mix together, and so the foundation will not blend into skin. However, buying all products from the same brand can help solve this problem.
12 Ways on How to Fix Patchy Foundation
You need to prepare your skin before any kind of makeup, but you need to do this correctly to avoid patchy skin. This can help prevent patchy skin, but what if it is not your skin and the foundation that creates a patchy foundation on cheeks and all over the face. Sometimes taking a damp sp[onge and applying it on your patchy spots can be a primary solution.
1. Get your Primer and apply a good primer
Your face needs a good primer to even out the places that lack hydration on the face. When you apply foundation, it can emphasize the differences and make it look patchy. We have all faced the time when the foundation won't stick to the nose.
It occurs because the skin is oily around the nose and the T zoned area. To avoid this, you can go for an oil-based primer that can balance out the skin and make the foundation application smooth as butter.
2. Apply Less foundation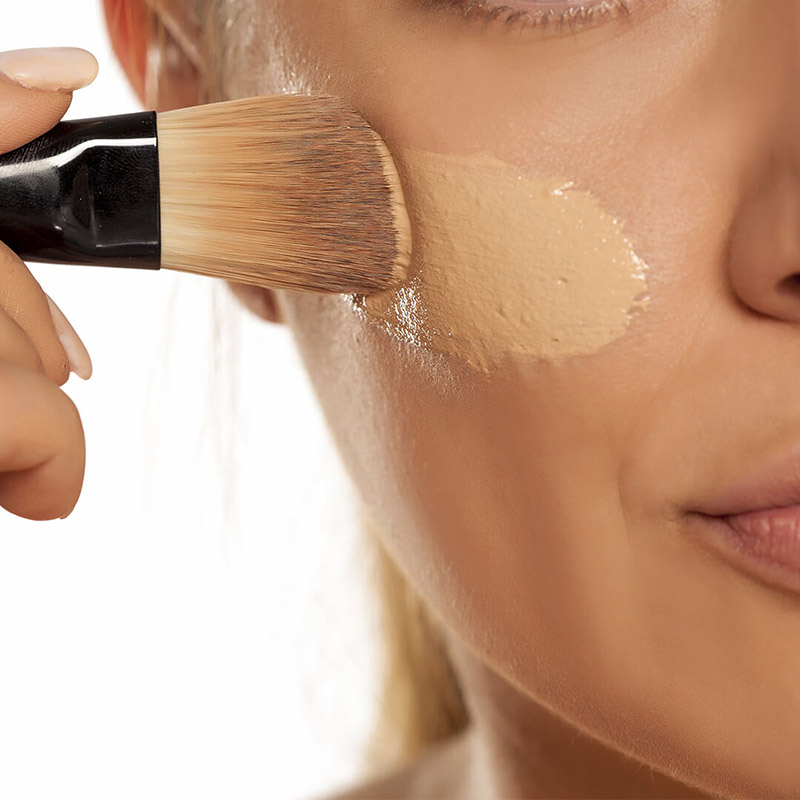 Some people might think applying too much foundation is necessary to cover up all the imperfections and get a glam look. But that is not the case here. If you keep using too many foundations and create a lot of layers, it will give patchy foundations on the cheeks. Remember, less is more. You can only try to use foundation on the places that need a little cover-up, like the redness or pigmentation and the blemishes. A little foundation will be enough to give you a subtle glam look.
3. Choose the right foundation type for your skin
There are many types of foundation in the market depending on the different types of shades and types of skin. However, choosing the right foundation for your skin type and your shade is really important unless you want to look like a clown in front of a crowd. We recommend checking if the shade matches your skin in natural daylight to avoid any mistakes.
4. Mix your moisturizer with foundation
Mixing your favorite moisturizer with your foundation can help prevent makeup from getting dry, even if you have a cakey foundation. It will get the necessary moisture from the moisturizer. Try this if you have not yet. This will give you a light, smooth finish that will also let your skin breathe.
5. Blend it baby!
Blending is the key if you want a flawless base and do not want to look like you are wearing a mask. After applying the foundation, you need to blend it appropriately. You can use a damp beauty blender for this step and use a small dabbing motion to apply the necessary foundation on your face and neck.
6. Try a sample before you buy!/Is the shade right for your skin tone?
The stores keep samples so that you can test out the foundation before you buy it. If you accidentally buy a shade that is too dark, too light, or too orange, it will ruin your makeup look. Test if it suits your warm or cool skin tone and the skin shade, then buy them accordingly. Try choosing a shade that is closer to your natural skin tone. Getting a lighter shade will give a fake look rather than a natural look.
7. Foundation is separating in the bottle
The foundation is basically a mixture of liquids like water and oils. If they are separated, that means that they are expired. Do not use expired products on your skin. They can lead to breakouts while the makeup will look patchy and dry.
8. Less is more
The full-coverage foundation can work like magic even if you apply just a little bit. Using a lot of foundation on your face will make it dry and start to look patchy. You should only use it in the problematic areas for better results.
9. Prep prep prep
Preparing your skin is one of the most important steps to prevent your makeup from getting patchy. Whether you apply serums, moisturizers, or eye creams, let it sit and settle in your skin for some time. You can dance a while to your favorite music while your skin takes in all the goodness.
When you have healthy, nourished skin, the foundation will apply smoothly and have fewer chances to dry out any sooner.
10. Set your makeup
Sometimes the foundation goes patchy on the nose or we see the patchy foundation on the cheeks or forehead. For this you need baking. Ever heard about this? No, not talking about the cake or pie you bake on holidays. In makeup language, baking means applying powder on the oily T zone to soak up all your oils so that your foundation does not break out by the end of the day.
It sets the makeup and makes it long-lasting, which means you better not skip this step.
11. Pick the right tools
There are several ways to apply foundation on your face. Some like to use a foundation brush or a blending sponge, while some like using fingers to apply foundation on their face. However, no matter which method you use, make sure they are clean first not to give you acne. The experts feel the fingers are the best tool for applying the foundation of the face as it brings a natural look to the face.
12. Clean your brushes
Dirty brushes can contain bacterias that can cause breakouts and spots on the face. Make a habit of cleaning the brush and makeup sponges after every use. You can use an antibacterial liquid to wash them up to remove any harmful bacteria living on them. Start to prefer using synthetic brushes for applying foundations as they are easier to clean this way.
Q/A on why does my foundation look patchy and dry
How to Make Foundation Last All Day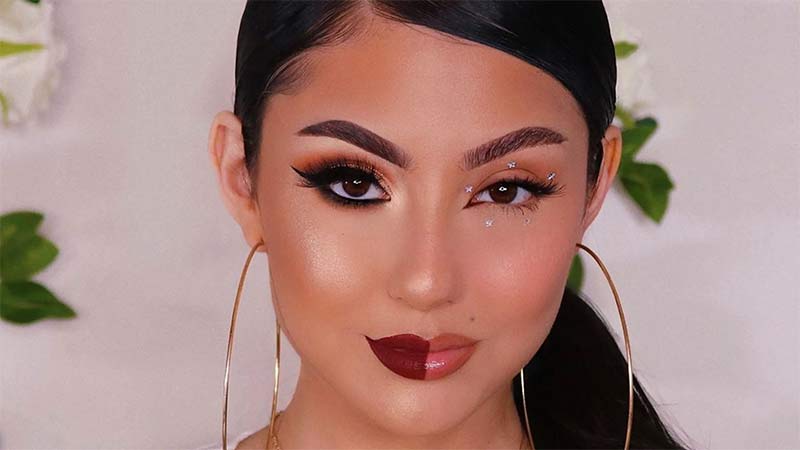 If you need to make the foundation last all day, you will need to keep makeup from rubbing off. Here is how to keep makeup from rubbing off – You can start by taking proper skin care and prepping the skin for the makeup. Also, ensure the products you are using have the formula that matches your skin. Lastly, by using the right tools, blend it well and end by setting it up by setting spray to avoid cakey makeup.
Why Does My Foundation Look Patchy Even With Primer
Maybe because you are using the wrong formula foundation for your skin, and perhaps you are mixing it with some products that do not match your skin. Studying the ingredients of the products before using them might help.
Best Foundation for Blotchy Uneven Skin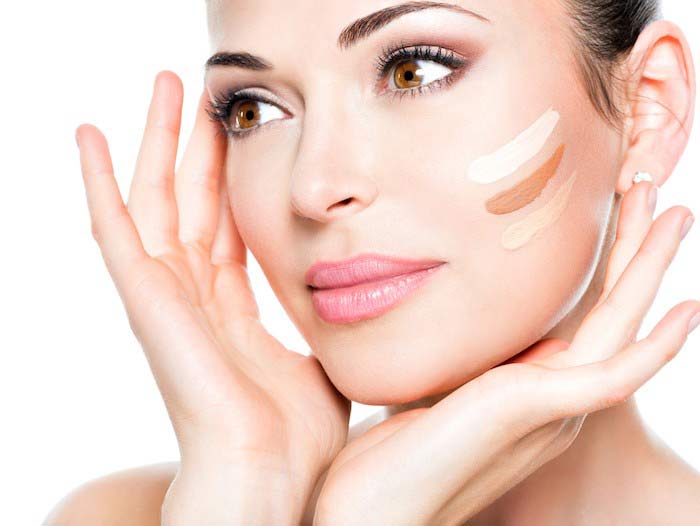 The best foundation for blotchy, uneven skin is the Dermablend Smooth Liquid Camo Foundation. This will give you the coverage you need while evening out your uneven, blotchy skin.
How to Keep Makeup From Rubbing Off
Try to use a setting spray that can set your makeup completely. Also, choose a waterproof formula that will keep makeup from rubbing off.
My Makeup Looks Cakey No Matter What
"Why does my makeup look cakey?"- The reason behind this question could be your dry skin, or maybe you are not layering your makeup products correctly. Also, skipping moisturization, exfoliation, and not using the correct skincare products can cause the makeup to look cakey.
Why Is My Foundation Separating In Bottle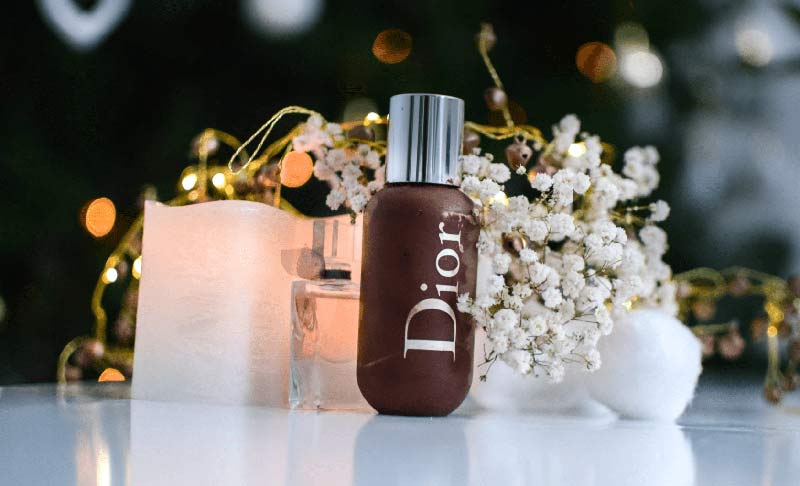 If you notice your foundation has two different layers of liquid, it means that your foundation is separating in the bottle. This occurs when the foundation has expired and is not suitable to use on the skin anymore.